Trump Embraces White Nationalists Who Agree Congresswomen Should 'Go Back' To Their Countries
GOP leaders like Senators Mitt Romney and Susan Collins were also criticized for refusing to call the president's tweets racist.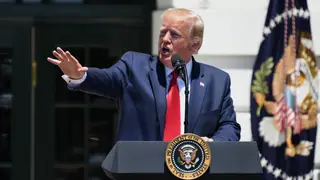 The language used in the tweets were considered a dog whistle for racists and white nationalists on the alt-right; however, Trump doesn't seem to have any issue receiving support from hate groups.
During a July 15 White House event on American manufacturing, Trump was asked to elaborate on his suggestion the representatives, who are all U.S. citizens, should "go back" to their countries of ethnic origin.
"If you're not happy here, then you can leave," Trump explained to a reporter with the Washington Post. "As far as I'm concerned, if you hate our country, if you're not happy here, you can leave. And that's what I say all the time." 
"That's what I said in a tweet, which I guess some people think is controversial — a lot of people love it, by the way," he added. "A lot of people love it. But if you're not happy in the U.S., if you're complaining all the time, very simply, you can leave. You can leave right now. Come back if you want. Don't come back. That's OK, too. But if you're not happy, you can leave." 
When Trump's explanation did not address how the tweets have been co-opted by white supremacist groups, a White House reporter pressed him.
"Does it concern you that many people saw that tweet as racist and that white nationalist groups are finding common cause with you on that point?" the reporter asked.
"It doesn't concern me because many people agree with me," Trump replied. "And all I'm saying — they want to leave, they can leave!" 
"Now, it doesn't say leave forever," he continued. "It says leave, if you want. John, what that says is, if they're not happy with the United States, if they're doing nothing but criticizing us all the time, you see these people walking down criticizing the United States." 
Well-known white nationalist Richard Spencer wrote, "with a single tweet, Trump was able to win back the sizeable deluded portion of the Alt-Right, eager to take another trip on the merry-go-round."
Trump may not seem to have an issue with appealing to white nationalists, but many people are also taking issue with the lack of condemnation from GOP leadership.

Senators Susan Collins and Mitt Romney both received significant backlash on Twitter for avoiding calling Trump and his rhetoric racist. 

When an NBC News reporter cornered Romney and asked about the tweets, he criticized Alexandria Ocasio-Cortez of New York, Rashida Tlaib of Michigan, Ilhan Omar of Minnesota and Ayanna Pressley of Massachusetts for their beliefs and then stopped the interview when the word "racist" was introduced.

Later on, Romney tweeted Trump's remarks were "over the line," but stopped short of calling them bigoted or racist.

When it comes to Collins, the Maine senator was criticized for using "bothsideism" in her statement about Trump's tweets.