Kamala Harris' Husband Doug Emhoff Evacuated From DC High School Black History Month Event After Bomb Threat
The Second Gentleman was at Washington's historic Dunbar High School when he was taken from the building by Secret Service agents.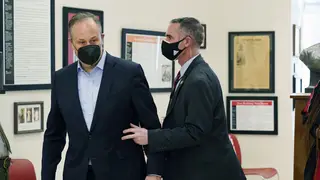 Vice President Kamala Harris' husband, Doug Emhoff, was evacuated from a predominantly Black public high school in Washington, D.C. on Tuesday (Feb. 8) after someone called in a bomb threat.
The second gentleman was at the historic Paul Laurence Dunbar Senior High School, the first high school in the nation to serve African American students, for an event commemorating Black History Month.
About five minutes into the program, a Secret Service agent whisked Emhoff from the building, USA Today reported. Emhoff's communications director, Katie Peters, announced his safety.
"U.S. Secret Service was made aware of a security threat at a school where the @SecondGentleman was meeting with students and faculty. Mr. Emhoff is safe and the school has been evacuated. We are grateful to Secret Service and D.C. Police for their work," she tweeted.
Meanwhile, the students were also evacuated and ultimately sent home for the day, Dunbar Principal Nadine Smith stated.
Metro Police Executive Assistant Chief Ashan Benedict said a threat was called into the school's front desk, adding that the threat didn't appear directed at the first gentleman, according to USA Today.
CNN reported that the Secret Service also said that "there is no information to indicate" the threat was directed at Emhoff.

Last week, reports emerged showing that Vice President Harris came within yards of a pipe bomb that was next to a bench outside the Democratic National Committee building during the Jan. 6, 2021, U.S. Capitol riot.
The HBCUs included Howard University, Morgan State, Jackson State, Mississippi Valley State, Coppin State, Alcorn State, Kentucky State, Tougaloo, Fort Valley State, Xavier (New Orleans), Spelman, Bowie State, UDC, and Edward Waters.
It prompted calls for an aggressive FBI investigation. The FBI later reported that six juveniles are persons of interest in the HBCU bomb threats that appeared to be racially motivated.

Meanwhile, Vice President Harris on Tuesday co-hosted a Day of Action with Treasury Secretary Janet Yellen, senior presidential adviser Gene Sperling and dozens of community organizations to encourage Americans to take advantage of available tax credits, according to the White House.