Waka Flocka And Soulja Boy Have Been Dragged Into This Fyre Festival Investigation...
One investor is seeking restitution.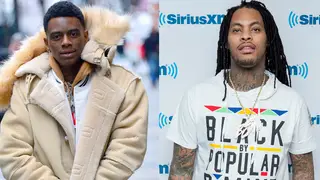 Just a week after both Netflix and Hulu dropped their eye-opening documentaries, divulging further into the 2017 saga known as Fyre Festival, it's being Ja Rule isn't the only rapper being dragged into some Fyre mess. According to a report from Billboard, Gregory Messer, a bankruptcy trustee for Fyre Media, is seeking to subpoena several models, including Kendall Jenner, Hailey Beiber and Bella Hadid, along with Soulja Boy and Waka Flocka who allegedly received payments from the "greatest party that never happened."
IMG, the agency representing Bella and Hailey, reportedly received $1.2 million from Fyre

Messer also issued subpoenas for Kendall's $250,000 social media promotional pay-out, as well as, Soulja's $115,000 cut and Waka's $150,000 cut. In total, Messer issued subpoena requests for up to $5.3 million, while authorities are attempting to figure out how the $26 million Billy McFarland raised for the Fyre Festival was allocated. McFarland is currently serving a six-year prison sentence for "various fraud charges stemming from a separate ticket-selling scam."

Neither Waka, Soulja nor any of the parties mentioned have responded about the subpoenas. You can watch the Fyre promo below.