Treach Slams His Ex-Wife Pepa on Instagram
Reader discretion is seriously advised for Pepa fans.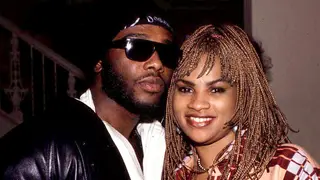 It's been 16 years since the divorce of hip-hop veteran and Naughty By Nature leader Treach and Pepa of the original rap femcee trio Salt-N-Pepa.
And though it's been almost a decade since Pepa, real name Sandra Denton, released her Let's Talk About Pep autobiography, which detailed the relationship with her ex-husband, Treach has gone full-fledged blast mode on her for the book's commentary. 
On a #ThrowbackThursday photo of the former couple posted to the "O.P.P." rapper's Instagram, he accuses Pepa of 224 pages full of lies and denounces her mention of his children in the book.
"Somebody tell my ex-wife this old school rat your book is full of lies you press whore," he writes in all caps beneath the photo. "You sold your soul to a hell hole and put my kids in the middle for ratings. You know ya f**ked up right LMFAO."
In further verbal blows at Pepa, captured by Baller Alert, he alleges that she attempted to turn his kids against him, sneak their 18-year-old daughter Egypt Criss into clubs and aired out what he claims as her sexual rendezvous with younger guys of the industry.
"In ya mid-50s trying to sneak my underage daughter in clubs on camera!," he continued. "OMG, you started watch me finish! Face and skin like Michael Jackson, heart and a** flat as pizza bread! LMFAO still f**king industry n****s younger than your children!"
Yikes. Delayed reaction, perhaps?
See Treach's scathing words for his ex-wife in the posts below.