Bishop Carlton Pearson, Acclaimed Gospel Musician and Pastor, Who Rejected Concept of Hell Dies at 70
Pearson embraced a different, more inclusive philosophy of faith, but was branded as a heretic.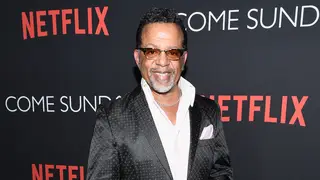 Bishop Carlton Pearson, an influential clergyman and renowned gospel music artist, has died at the age of 70 following a brief battle with cancer, USA Today
Pearson's passing was confirmed on his Facebook page where in recent weeks he informed his audience about his declining health.
"We are saddened to inform you that Bishop Carlton D'Metrius Pearson, one of the most popular and influential preachers in America and around the world, who sacrificed everything for a message of unconditional love and acceptance by God, died peacefully the night of November 19, 2023, at the age of 70, after a brief battle with cancer that had returned after first defeating it 20 years ago," read the post on Pearson's Facebook page.
Pearson's ministry began in 1971 as a student of Oral Roberts University where he was invited by Oral Roberts to join the World Action Singers. In 1975, he became an associate evangelist with the Oral Roberts Evangelistic Association.
In 1977, Carlton established his own ministry, Higher Dimensions, Inc., and in 1981 with 75 people he launched Higher Dimensions Evangelistic Center, in Jenks, Okla. The church would experience rapid growth and would soon be a multi-ethnic, cross-cultural ministry of more than 6,000 members at its height.
Another hallmark of Pearson's legacy was his founding of the Azusa Interdenominational Fellowship, a ministry network that counted nearly 600 churches with thousands of individual members by its end. The fellowship attracted thousands of attendees to its annual conference and gave national exposure to Bishop T.D. Jakes, Bishop Paul S. Morton, and many others.
While experiencing great success, Pearson began to move away from orthodox Christianity to embrace a progressive universal theology that he called "The Gospel of Inclusion." With his new theological shift, Pearson rejected hell as eternal punishment and affirmed same sex couples which put him at odds in the Pentecostal church circles where he made his fame.
"Because of our concern for the many people that could be influenced to adopt this heresy and in so doing put at risk the eternal destiny of their souls, we are compelled to declare Bishop Carlton Pearson a heretic," wrote Bishop Clifford Leon Frazier, chairman of the joint college's doctrinal commission at the time. 
The group would disfellowship from Pearson and encourage others to do the same. 
Following his theological shift, the membership of Higher Dimensions dwindled to a few hundred. Eventually, the church closed its doors in 2005.
But Pearson remained steadfast to his philosophy, eventually reaching out to the LGBTQ community. In 2007 he helped to lead a contingent of hundreds of clergy nationwide that advocated for anti-hate crime and job discrimination legislation for gay people.
Because of his views, Pearson found a home in the mainline denominations serving as Interim Senior Minister at Christ Universal Church in Chicago, and as Affiliate Minister at All Souls Unitarian Church in Tulsa.
The aftermath of Pearson's rejection of fundamentalist Christianity was the subject of the 2018 Netflix film, Come Sunday starring Chiwetel Ejiofor, Lakeith Stanfield, Jason Segel, Danny Glover, and Martin Sheen.
Pearson is survived by his mother, a son, a daughter, and his former wife, Bogle.