Orlando Church Hosting AP African American Studies Course
The Audubon Park Covenant Church will host the courses and more than 400 people have registered from across the country.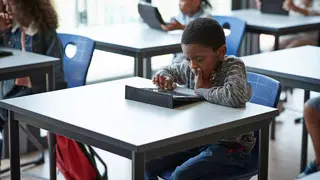 A church in Orlando will be a host site for AP African American Studies courses that students can access across the country which could also earn them college credits.
Rev. Sarah Robinson, the pastor of the church, explained how the courses are being offered to meet the needs of the people.  Since the church announced the classes, a teacher along with several volunteers have signed on to be a part of the sessions and more than 400 people have registered to take the courses from across the country.
"We talked about various things that we wanted to do in connection with this as a library, and one of the things that came up was access to information that was being limited," Robinson said.
"The reality is students, but not just students, so many of us recognize that we were raised without having a lot of this background," she continued. "We were like, 'gosh, I wish something like that existed when we were in high school."
Earlier this year, Gov. Ron DeSantis said he would ban AP African American Studies in Florida schools because he claimed it pushed a "woke" political agenda.
In a letter that the state's Department of Education sent to the College Board, the nonprofit organization that oversees AP coursework, the classes were rejected  because "the content of this course is inexplicably contrary to Florida law and significantly lacks educational value."
Eventually, the College Board revised the curriculum and then the State Board of Education approved the new teaching standards for teaching Black history.
In August, a demonstration was held in Miami to protest Florida's new educational standards for teaching Black history in public schools. Critics of the new curriculum believe it is "an attempt to whitewash America's racist past."
"These new state standards that [Gov. Ron] DeSantis has come up with will not be tolerated in our schools. We will not let our children be taught that slaves benefited from their slavery. That's a lie," said Marvin Dunn, a professor emeritus of psychology at Florida International University and the organizer of the march.
The church plans to run the courses on a hybrid schedule where they'll give online readings at a few times a month, and occasionally meet in person for classes.
Robinson said that offering the courses at the church is a direct response to the political agenda of the DeSantis community.
"I'm going to be taking the class, and I'm very excited," Robinson said. "I looked at the curriculum, and especially the first few modules are all about the history of Africa. I think it's going to be really eye-opening and important.