Michelle Obama to Host a 'Black-ish' Watch Party Tonight
ABC shared a clip featuring our Forever FLOTUS ahead of the show's Season 2 premiere.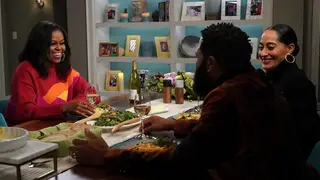 Michelle Obama, our forever FLOTUS, will host a Twitter Watch Party ahead of the black-ish farewell season premiere, which will air tonight, Jan. 4, at 9:30 p.m. ET on ABC.
The network, which released an early clip to hype up the series' last hoorah, will feature Mrs. Obama in attendance at a When We All Vote fundraiser with Rainbow Johnson (Tracee Ellis Ross) and Dre Johnson (Anthony Anderson).
The episode titled "That's What Friends Are For" will kick off the sitcom's eighth and final season.
ABC has been teasing Mrs. Obama's appearance for months. Tracee Ellis Ross shared a clip, with the caption, "Don't miss THEE [Michelle Obama] on the farewell season premiere of #blackish this Tuesday." In the clip, which you can see above, Rainbow and Dre are having dinner with the former First Lady as their children attempt to barge in.
In related news, Anthony Anderson opened up about his friendship with Ross in a recent interview with Parade magazine. The 51-year-old said that while hosting an awards show with Ross years ago, he made a joke that offended her, leading to a decade-long icy relationship.
"We laugh about this now, but Tracee didn't like me for maybe 10 years!" he told Parade. "We hosted the Vibe Awards [in 2005]. As we were walking onto the stage there was a loud sound over the speaker, and I said, 'Tracee? Did you fart?' The audience loved it, but what I did not know is how offended Tracee was by that comment."
Although they went through a rough patch, the two have mended any issues, and the co-stars consider themselves close friends now.
"There's nothing that I would not do for Tracee," he added in the interview. "We work the same, we learn the same, we are there for one another, and we have the ability to work with such fearlessness when we're together because we know that we will never allow the other to fall."