Tiffany Haddish Shares Her Fresh Take On A Wedding Dress She Recently Purchased
She said she looks forward to wearing it on a yacht.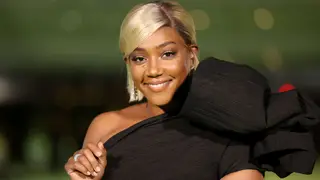 Tiffany Haddish is putting her own twist on a classic style staple.
On Sunday (August 19), the Haunted Mansion star revealed that she recently purchased a wedding dress. But it's not for walking down the aisle, as it will serve another fun purpose, as reported by PEOPLE.
While speaking at the AliExpress Summer Pop-Up Tour launch at The Grove in Los Angeles on Saturday (August 19), she told the outlet she got it because she liked it. "It was beautiful, and it looked like something I could wear on a yacht or whatever," she said.
But don't think she will be rocking the white dress –purchased from the website– on the seas. For her, it still needs one final touch to be 100% Haddish approved." I'm dyeing it this beautiful blue color — it's almost like a purplish blue — and it is going to be amazing."
And to achieve the color she wants, she intends to hand that responsibility off to the experts. "Well, I'm not dyeing it. I paid somebody else to do it for me, actually, but I know it's going to be amazing."
Haddish –known to practice smart spending–  is a proud supporter of the site's cost-effective pieces that range daily for any occasion.
"I don't know why girls spend so much money on gowns because [AliExpress] will custom make it for you. You can write the creator or the seller and say, 'These are my measurements, this is what color [and fabric] I really want,' and they'll have all these options for you," she shared.
"If you don't like it, you can always send it back. But I usually end up liking it or I end up giving it to some of my foster youth and have them wear it," Haddish added.