Naomi Campbell Reveals She Welcomed A Second Child, A Baby Boy
The legendary supermodel gave birth to a daughter in 2021.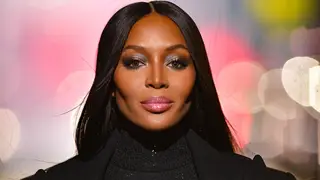 Surprise! Naomi Campbell just revealed that she has welcomed a second child, a son, at the age of 53.
The new mom of two shared a photo on her Instagram with more than 15 million followers. In the picture, she is cradling the baby boy as her two-year-old daughter reaches in to hold his hand.
Campbell wrote a thoughtful caption: "My little darling, know that you are cherished beyond measure and surrounded by love from the moment you graced us with your presence. A True Gift from God 🙏🏾, blessed ! Welcome Babyboy. 💙🍼✨ #mumoftwo ❤️💙," she wrote, adding, "It's never too late to become a mother 🙏🏾."
Campbell has shared only a few pictures of her daughter, born in 2021. When she announced the birth, she wrote, "A beautiful little blessing has chosen me to be her mother," she added, "So honoured to have this gentle soul in my life there are no words to describe the lifelong bond that I now share with you my angel. There is no greater love."
The supermodel has previously shared that she would encourage other women of her age not to "hesitate" to have children.
"I always knew that one day I would be a mother, but it's the biggest joy I could ever imagine. I'm lucky to have her and I know that," she told British Vogue last year, per PEOPLE. She added that motherhood has given her a "completely selfless" attitude.