Sam Jay Ups the Controversial Ante For 'Pause' Season Two
The comedic writer and star of 'Pause with Sam Jay' is looking inward on this go-around.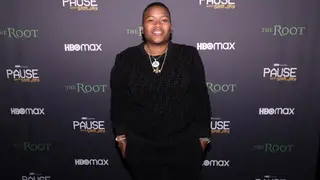 Last year's debut of the HBO series Pause with Sam Jay was more than a sleek reinvention of a late-night talk show. The series produced by the titular stand-up comedian Sam Jay, alongside Insecure showrunner Prentice Penny, offered an unfiltered look into uncomfortable conversations amongst Black millennials.
Sandwiched between free-flowing styled discussions were hilariously bold skits that displayed Jay's background as a stand-up comedian and breakout comedic writer for Saturday Night Live. From drafting a "n***a constitution" when discussing Black ideology to acting as a TV-court-style judge for scammers in explaining the ridiculousness of American capitalism, it's easy to understand why HBO green-light the inventive series a second season.
For season two, Jay spoke with BET.com about her plans to present more introspective ideas with the types of conversations.
"I tackle some very personal things to me," explained Sam Jay. "So I guess I look at Season One as more of a macro season, and we talk about some sweeping world ideas. This one is more centered around some things that I'm actually going through or struggling with."
This means kicking off the second season by discussing the intersectionalism between being Black and queer. Poignant conversations with Jay's close friends and interviews with a white woman who is the head of an LGBTQ+ organization are juxtaposed to a hilarious skit featuring a buck-naked game of basketball.
"To me, the episode itself is about the intersectionality of Black queerness," Jay said. "But then also just how we can create more Black spaces where all Black people can be a part of them. To me, it's about freedom. It's about judging less and not putting things in boxes. Just because these dudes are playing basketball naked doesn't mean this has only to be a gay space and doesn't have only to be a queer space. It could just be a very Black space where we enjoy hanging out with each other."
Taking things further, the naked basketball game includes a performance with rising Black LGBTQ+ rappers Kidd Kenn and Delli Boe. Jay called the rise of popular queer rappers from Lil Nas X to Saucy Santana something that was dope to her.
"It's the more, the merrier, and the more representation of all types of Blackness that we can get and see, the more beautiful it is," said Jay. "Black people are not a monolith, and the more we show the tapestry, I just think the better off we are."
Alongside talking about issues including addiction and her fear of death, she even opens up about how prison affected her brother.
"I just felt like these were things I wanted to talk about like the private prison system and the whole incarceration system in America," Jay said. "I wanted to talk about my fear of death, and it was just different things that I wanted to discuss or to tackle. It felt like to come from a personal space was the best way to approach them."
Jay's brand of comedy is brash yet wisdom-filled. Watching an episode of Pause with Sam Jay means enjoying uncomfortable yet brutally honest conversations about Black life while getting a kick out of the comedic skits that inspire the topic. According to Jay, it's important to get perspective on topics individuals may feel are dangerous.
"To me, those are the topics that need to be discussed, and those are the things that are kind of holding us back as a society," explained Jay. "The more we get the conversation going about them, and let people share their actual opinions, and have real discourse instead of just foot in the sand and on one side or the other, the more we can move these conversations forward and find the commonality between us all."
Jay mentioned that both show two different ways to be creative.
"With 'Pause,' it's let's bring these conversations to the forefront," Jay said. "'Bust Down' is let's be as silly as we could possibly be."
As more Black queer voices get more mainstream representation in pop culture, Jay feels that being herself is inspirational in itself.
"The more people see people like them or who have similar life experiences to them excelling at things or being in spaces that you don't typically see people like you, the more it opens up the world for you and allows you to kind of think outside of your bubble," said Jay. " And so I hope it's doing that, but, for the most part, I just try to be me every day and not really think and live in boxes."
---
Watch the season two premiere of Pause with Sam Jay today, May 20, at 11:00 — 11:30 p.m. ET/PT on HBO and on HBO Max.
Ural Garrett is a Los Angeles-based entertainment and tech writer documenting the intersections of pop and digital culture. Follow him at @UralG on Twitter.