OPINION: Paul Mooney, The Unsung Comedy Legend Who, Right Or Wrong, Never Backed Down From Controversy
Known for backing Richard Pryor and Redd Foxx, his recent death is a reminder that his breed of comedy boldly pushed the envelope as far as it could go.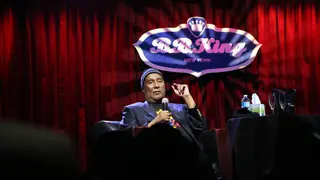 Whenever someone starts talking of stand-up comedy "greats," I think about the true, unimpeachable legends – the ones who are no longer with us and who paved the path for the living, working comedians we love.
My father schooled me on the greats when I was a boy: Redd Foxx, Moms Mabley, Richard Pryor, George Carlin. Comedians who were among the first to hilariously and incisively hold a mirror up to America's -isms in an era when social progression and tolerance was quite far from a priority.
Mooney didn't have the high-profile comedy and film/television career of Pryor or his progenies Eddie Murphy and Chris Rock. But, similar to the late Patrice O'Neal, Mooney's reputation among other comedians is impeccable. Just looking at Twitter when the news broke of his passing and you'll see your favorite comedian's favorite comedian acknowledge Mooney's influence on their career.
Born Paul Gladney, the Louisiana native started his career as a circus ringmaster, which allowed him to cut the jokes that landed him a gig as a writer for Pryor. Mooney wrote material for several of Pryor's now-classic routines, including his Grammy Award-winning 1982 album Live on the Sunset Strip. As a writer for "The Richard Pryor Show," an NBC variety show that lasted only four episodes in 1977, Mooney helped launch the careers of some of the funniest voices in comedy including Robin Williams, Marsha Warfield, John Witherspoon, Tim Reid and Sandra Bernhard.
Mooney focused most of his own comedy around the brutal realities of racism and its impact on the American condition; he received a Grammy nomination for his 1993 album Race. He experienced a career resurgence in the early 2000s when he was in his 60s: In 2004, he briefly had his own show, "Judge Mooney," in which he tried actual court cases Judge Judy-style. A younger generation was introduced to Mooney through his classic "Ask a Black Man" and "Negrodamus" skits on Dave Chappelle's groundbreaking "Chappelle's Show."
Mooney knew he couldn't play the "Hollywood game" and remain true to himself and his comedy, which he essentially screamed at the world through his fictional character Junebug in Spike Lee's 2000 film "Bamboozled." Portraying a washed-up comic in that film, Junebug said, "I got too much pride, too much dignity…I can't do that Hollywood stuff, man. I can't say the stuff they want me to say."
As is the case with any comedian worth their salt, Mooney never had a problem courting controversy and defending his routine, reminding the world that comedy should be a no-fly zone for social justice warriors.
Editor's Note: The below video content contains objectionable language which may trigger some. Viewer discretion is advised. 
Indeed, Paul Mooney's brand of comedy is becoming exceedingly anachronistic in a society that demands tolerance from its superstars. Watching his generation leave the mortal plane might be tantamount to watching that brand of comedy die off, which is wonderful or tragic, depending on whom you ask. Regardless of your stance on it, "Negrodamus" and every hilarious take Mooney has had on society has done its job to make people think beyond the confines of what they are normally used to. And for that reason alone, his impact will live forever.
Dustin J. Seibert is a native Detroiter living in Chicago. He loves his own mama slightly more than he loves music and exercises every day only so his French fry intake doesn't catch up to him. Find him at wafflecolored.com.