Family Demands Police Continue Investigating Death Of 21-Year-Old Taemon Blair, Who Died By Hanging
The coroner ruled the cause of death a "suicide," but Blair's relatives believe he was murdered.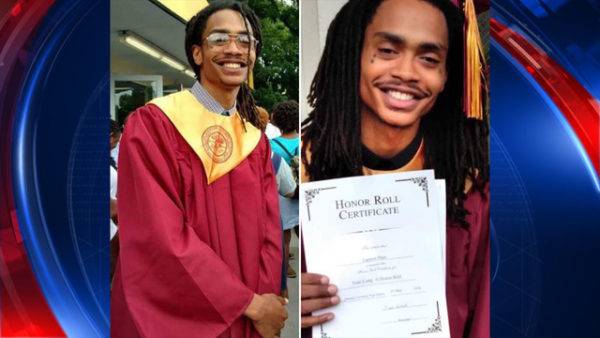 The family of a 21-year-old Charlotte native who died by hanging is calling the circumstances of his death strange and insisting police continue investigating.
On March 14, Taemon Blair was found hanging in a tractor-trailer he drove for his job in Indiana. While the Allen County Coroner's Office ruled Blair's official cause of death "asphyxia due to hanging" and said he died by suicide, his family members believe there was foul play involved, Fox46 Charlotte reports
"We just want him to get justice. That's all we want. We just want to find out exactly if somebody did it who did it and why, and we want to open it back up to see," Blair's older brother, Dee Smith, told Fox46.
"It's just a lot of unanswered questions for them to just rule it a suicide and just sweep it under the rug like it was nothing," Smith added to the news station.
Blair's mother, Taesha Hunt, said she spoke with a detective who suggested the cause of death was not suicide.
"They lifted his neck and it looked like someone tried to decapitate him," Hunt told the news station.
She also said the detective saw Blair's dashboard was "kicked in, like somebody just beat it up.'"
News of Blair's death went viral on social media after people began speculating that the 21-year-old was lynched.
In response to the social media rumors, the coroner's chief investigator, Michael Burris, released a four-page document detailing how Blair's body was found. According to the document, Blair's truck was first found parked in the driveway of an Indiana business. An employee of the business discovered Blair's body when he arrived at work that morning. The coroner's report states Blair's body showed no evidence of defensive wounds, nor signs his hands were bound.
Fort Wayne Police also said there was no indication of any suspicious activity regarding the death.
Additionally, the Allen County NAACP chapter in Fort Wayne spoke about Blair's death in a post made to Facebook Wednesday. In the statement, the chapter said they would not comment on any speculations until they hear from the family.  
"At this moment, the NAACP has no comment regarding the death of Taemon Blair. Taemon's death has been ruled a suicide according to the Allen County Coroner's Office. If we receive a complaint from the family of Taemon Blair, we will address the concern," the statement read.
In the GoFundMe description, Smith revealed Blair was a father-to-be who worked through several rough patches to become an honor roll student. Smith also expressed more concerns about his brother's death.
"He was 6'5, I thought to myself, how could he hang himself inside of a truck when he's so tall. This is sooooo devastating for our family. So unexpected!" Smith wrote. "If this wasn't a suicide, I really hope that the police will find who killed [Taemon]!"
The National Suicide Prevention Hotline is a 24-hour resource for those in need. It can be reached at 800-273-8255.