Holiday Cocktails Made With Celebrity-Owned Spirits
From Ciara to Snoop Dogg, see the list of cocktails crafted with spirits owned by some of our celebrity faves!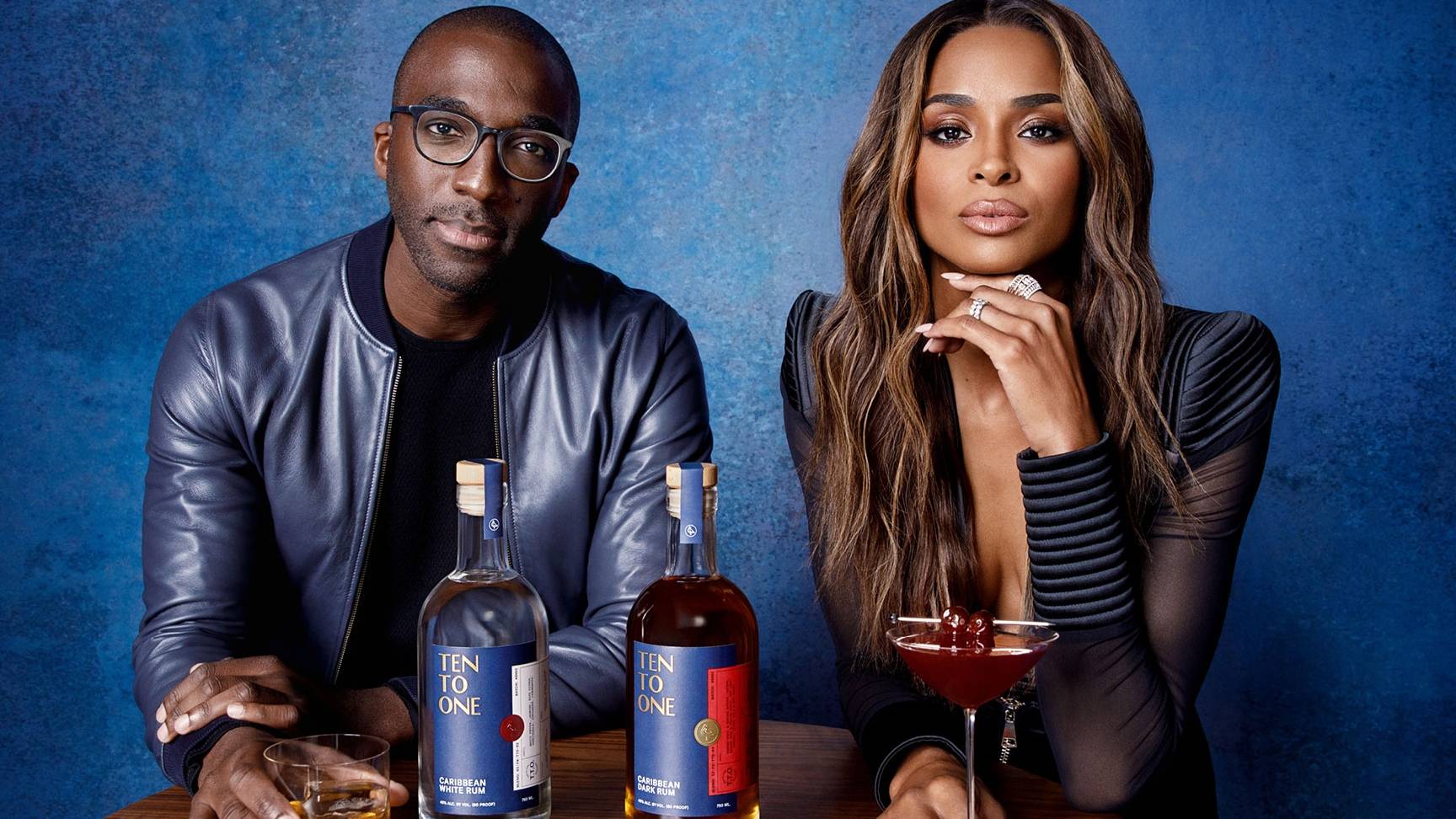 For master mixologist Jairo Taveras, talk of holiday cocktails brings to mind roasted coconut and nutmeg, two ingredients the self-proclaimed island boy says for him are synonymous with the perfect holiday cocktail. Taveras remembers his mother introducing him to Ponche, a classic Dominican holiday drink with eggnog and rum. "I loved everything about it–the texture and the spices that came along with it." A former mixologist for NYC hotspots The Honey Well and Bathtub Gin, Taveras, who presently serves as Havana Club Ambassador for Bacardi USA, believes that the right holiday cocktail can create a moment to cherish for a lifetime. 
This holiday season, we've made this goal a little bit easier to achieve, thanks to our list of holiday cocktails crafted with not just any liquor but premier celebrity-owned spirits. Be it infused with a signature garnish like cinnamon or crafted with seasonal ingredients like pomegranate that harken to the holidays, Taveras believes that the key to making the perfect holiday cocktail is infusing it with a simple ingredient–"the joy of family and friends coming together." If you're ready to toast to this holiday season and are looking for the perfect holiday cocktails crafted with spirits owned by some of our celebrity faves, we've got the goods.
Blood Orange Rum Negroni Made with Ciara's Ten To One Rum

Grammy Award-winning artist and entrepreneur Ciara announced her partnership with entrepreneur Marc Farrell (CEO of Ten To One Rum) to introduce the spirit, which has a rich and long history steeped in the Caribbean, to a new generation by reshaping the conversation around rum. She shares, "From my first sip of Ten To One, I was immediately transported. I knew immediately that I had to get involved! I couldn't be more excited to help the brand build on its amazing foundation and invite new audiences to rediscover their love for rum through Ten To One." Blood oranges are a popular winter fruit with a gorgeously colored juice that is ideal for incorporating into a holiday cocktail. 

1 oz Ten To One White Rum

0.5 oz Blood Orange Liqueur

2 dashes of orange bitters

GARNISH: Blood orange slice

INSTRUCTIONS: Add all ingredients into a mixing glass over ice and stir until chilled. Strain into glass over a big ice cube and garnish with blood orange slice.

The Rosé Paloma Made with Post Malone's Maison No. 9

Maison No. 9 is a French rosé wine with notes of freshly picked pineapple, pear, and strawberries mixed with subtle hints of French desserts. It was created and developed by multi-Platinum recording artist Post Malone in partnership with friends James Morrissey and Dre London. "Rosé is for when you want to get a little fancy," says Malone. This Rosé Paloma cocktail not only delivers that touch of fancy to your holiday affair but delivers a refreshing sip thanks to its ingredients.

GARNISH: Grapefruit Wedge

INSTRUCTIONS: Add all ingredients except soda water into a shaker with ice. Shake briefly. Add 2 oz of soda water to the shaker and strain over fresh ice into a salt-rimmed glass. Garnish with a grapefruit wedge.

The Doggfather Made with Snoop Dogg's Indoggo Gin

Snoop Dogg has plenty to celebrate with the release of his newest album, The Algorithm. He will undoubtedly be celebrating the holidays with his new music with his very own gin, which the Doggfather himself told Rolling Stone has been a long time coming. "I have done deals before with other companies, and I was grateful to work with those companies, but I needed to create something that represented me," he shares. They say "every dog has its day," but with INDOGGO®, a gluten-free strawberry-flavored gin infused with botanicals, you can have a dog-gone good time any day you choose with family and friends.

¾ oz Cucumber Simple Syrup (or ¾ oz simple syrup & 2-3 cucumber slices)

INSTRUCTIONS: In a cocktail shaker add simple syrup and strawberries, mint leaves, and cucumbers. Muddle together. Add INDOGGO® and ice, shake. Strain into a glass with ice. Top with ginger beer, leaving room at the top. Using the back of a spoon, slowly add wine to layer the cocktail. Garnish with fresh mint. Stir to incorporate before drinking.

Sun Goddess Sauvignon Martini Made with Mary J. Blige's Sun Goddess Wines

Now you can be merry this holiday season with the "Queen of Hip Hop Soul" Mary J. Blige and her Sun Goddess Wines. Blige describes Sun Goddess Wines, a "labor of love," and this martini recipe using her Sauvignon Blanc is one of life's treasures that you can treat yourself to this holiday season and beyond. Every great wine deserves a great name, and Blige shares that Sun Goddess was given to her by her sister Tanya. The brand features a Pinot Grigio, which Blige referred to as her go-to wine, and is presently expanding with a Prosecco and a red wine. 

1 oz Sun Goddess Sauvignon Blanc

INSTRUCTIONS: Add all ingredients into a shaker and shake until well-chilled. Strain into a Martini glass.

21 Questions Made with 50 Cent's Branson Cognac

50 Cent is officially unstoppable, it seems. His foray into the world of celebrity-owned spirits with Branson Cognac is a vibe, and a victory for the ambitious rapper turned media mogul. The packaging of this brand, which features four signature cognacs, is beautiful and rich-looking, while the cognac itself offers a bold yet smooth taste that's easy to appreciate and enjoy. The name of this featured cocktail recipe is "21 Questions," but if you're contemplating whether to make this drink for the holidays, we think it's a no-brainer.

.75 oz. Elderflower Liqueur

1.5 oz. Branson VSOP Cognac

GARNISH: Strawberries, Mint

INSTRUCTIONS: Shake with ice and strain over a large ice cube. Muddle strawberries and mint sprigs, then add as garnish. 

Bramble Highball Made with Ryan Reynolds' Aviation Gin

Anthony Baker, the master mixologist for Home Bartenders, the signature Bramble Highball featuring Aviation Gin by Ryan Reynolds, is an easy holiday cocktail selection. Baker shares, "The Bramble Highball is such an easy cocktail to make, especially with the family. No shaking, no straining. Since Reynolds became co-owner of Aviation Gin in 2018, the brand has found itself a flock of admiring enthusiasts among gin lovers, including Baker, a self-employed cocktail professor, and recipe developer. "I like Aviation Gin because of its old-style, juniper-forward, citrusy flavor," says Baker. It's named after the Aviation classic cocktail, which makes it also perfect for any cocktails that have citrus and berry flavors, for example, The Bramble."

3 oz Stewart's Black Cherry Spiked Seltzer

INSTRUCTIONS: Combine all ingredients into a tall Collins glass and stir. Add ice as desired and serve. Make sure to keep the cocktail cold so that it doesn't lose its fizzy-ness.

Armand de Brignac "Ace of Spades" Brut Gold, by Jay Z

Entertainment mogul Jay Z knows the finer things in life, and as a personal nod to good living, he has set a high bar with his Armand de Brignac. A prestigious spirit such as this champagne is intended to be enjoyed as a solo act to appreciate its depth and nuance truly. Armand de Brignac is best served straight. You'll want to set the stage for the perfect holiday pour of this spirit, which comes beautifully cased in a sleek and sexy black, and gold embossed keepsake box that has New Year's Eve "written" all over it by chilling the bottle beforehand. Aim to cool it to 45-50 degrees Fahrenheit, the optimal temperature to avoid numbing the taste buds, but the perfect temp to appreciate the high quality of this indulgent holiday treat. 

GLASSWARE: Tulip flute or white wine glass

INSTRUCTIONS: Chill champagne to 40-50 degrees Fahrenheit. Pour into a tulip flute or white wine glass. Drink and enjoy.

Pineapple Upside Down Cocktail Made with Jamie Foxx's Brown Sugar Bourbon

The jury is still out on whether or not comedian and crooner Jamie Foxx was inspired to name his very own spirit, Brown Sugar Bourbon (BSB) behind D'Angelo's 1995 hit song "Brown Sugar." Still, we love every chance we get to see the super talent impress us. In projects like Just Mercy and Soul, sing those oh-so-apropos lyrics and cheers to his fans and fellow bourbon enthusiasts as he promotes BSB, of which he identifies as the proud owner. Black-owned businesses are shining more brightly than ever. We give our props to Foxx for making a mark for himself in the world of celebrity-owned spirits alongside the likes of Diddy, Jay-Z, Snoop, Ludacris, Rick Ross, and others. We dare you–go ahead and try this recipe for a Pineapple Upside Down Cocktail–you can totally "blame it on the alcohol."

2 oz BSB (Brown Sugar Bourbon)

2 oz Fresh Squeezed Lemonade

GARNISH: Fresh pineapple, cherry

INSTRUCTIONS: In a shaker of ice, combine all ingredients and shake. Strain into a tumbler of new ice. Garnish with fresh pineapple and a cherry.

CÎROC Pom Jewel Made with Diddy's CÎROC Pomegranate

It seems like celebrity-owned spirits are a thing now more than ever, but we have to give props to one of the first to venture successfully into that market, Mr. Game Changer himself, Sean P. Diddy Combs. It's safe to say that Combs has once again managed to make an indelible impression on Black culture as we know it with his spirited CÎROC vodka. As it symbolizes prosperity and good fortune and is associated with the Christmas holiday, we think this CÎROC Pom Jewel cocktail recipe is a sure crowd-pleaser. 

INSTRUCTIONS: Add CÎROC Pomegranate and grenadine to a flute glass. Top off with sparkling wine and stir. Garnish with a lemon twist.

(Editors Note: These cocktails are for ages 21 +)