Secure The Bag: Jermey 'Prison Bae' Meeks And His Billionaire Girlfriend Have Some Big News
The convict-turned-model may have hit the jackpot.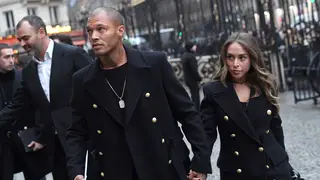 If the latest reports surrounding "Prison Bae," Jeremy Meeks, and his wealthy girlfriend, Chloe Green, are true, it looks like he just hit the jackpot — at least for the next 18 years.
According to theJasmineBRAND.com, the Topshop heiress, 27, is currently pregnant with their first child together.
The two reportedly first began dating back in 2017 while he was still legally married to his now estranged wife, Melissa. Meeks, 34, has since filed for divorce from her — last October, to be exact. In fact, on the same day his filing went public, he was spotted on a luxury vacation with Green in St. Barts.
This reported pregnancy will see the former felon become a second-time father as he shares one biological son with his estranged wife as well as two step-children.
It should be noted that neither Meeks nor Green have officially confirmed the news themselves.