Are You Ready for Hillary Clinton in 2016?
Ready for Hillary PAC launches Black voter initiative.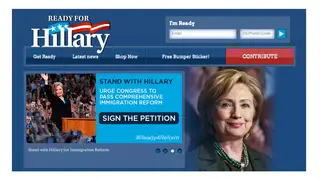 Former first lady and Secretary of State Hillary Clinton hasn't yet declared whether she will run for president in 2016, but that hasn't stopped her backers from laying the groundwork in the hope of helping her make up her mind.
A national super PAC called Ready for Hillary on Monday launched a Black-Americans program to encourage African-Americans to support her potential candidacy. It will announce a National Black-Americans Advisory Council later this month.
Modeled much like President Obama's campaign, the initiative is being led by Quentin James, who also is the PAC's southern regional director. Other supporters include Seton Hall professor Mark Alexander, who worked on Obama's 2008 campaign, and former Atlanta mayor Shirley Franklin.
"Whether in her days as first lady of Arkansas, first lady of the United States, U.S. senator or secretary of state, Hillary Clinton has always prioritized the issues of importance in the Black community," James said during a conference call with reporters.
The program will mobilize African-Americans through outreach efforts in their communities at such places as barber shops, hair salons and through DJs and club promoters and faith-based, civic and other local organizations. It also will utilize events like 50th anniversary commemorations of the Civil Rights Act of 1964 and the Freedom Summer to engage voters and offer voter-mobilization training sessions at HBCUs "to inspire a new generation of foot soldiers." Another priority will be to promote the Affordable Care Act and encourage people to enroll in a health insurance plan.
"So far, we've organized meetings in Las Vegas, Memphis and Washington, D.C., to share our ideas and get feedback from community leaders. A key part of building early grassroots support is engaging the Black community," said James.
He also hopes that the initiative will help get African-American voters and other groups that typically stay at home during mid-term elections to head to the polls this November. According to Alexander, many African-Americans will be on statewide ballots this year, so they'd like to give people the tools they need to support local candidates.
"We are engaged in a big movement here, obviously behind Hillary Clinton and a potential run for president, but it is fundamentally a movement to improve our democracy and improve the way our government works, and that requires us to be active in every race," said Alexander. "What that means is we are building an early grassroots support network that is necessary for a successful presidential effort for Clinton, but it's also necessary for ultimately successful election results in every single year and 2014 is a very important election year."
So far, the Ready for Hillary PAC has about two million supporters and has raised more than $4 million.
BET Politics - Your source for the latest news, photos and videos illuminating key issues and personalities in African-American political life, plus commentary from some of our liveliest voices. Click here to subscribe to our newsletter. 
Follow Joyce Jones on Twitter: @BETpolitichick.