Wale and Michelle Obama Reach Higher
DMV rapper gets a pass to the White House for new initiative.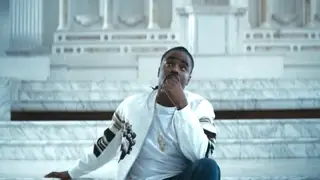 The chart-topping MC will perform a concert for the Reach Higher initiative at the nation's most coveted address next week, as part of First Lady Michelle Obama's 2015 Beating the Odds Summit. She's invited to the White House 130 college-bound students who come from special needs, under-served, homeless, foster, rural, and urban experiences from around the country. 
"This event will focus on sharing tools and strategies students can use to successfully transition to college and the resources they will need to complete the next level of their education," the Press Office said via statement. The sudents are those who've, "overcome substantial obstacles to persist through high school and make it to college."
Wale is the only invited musical performer. Terrence Jenkins; Secretary of Education Arne Duncan; and Manuel Contreras, a rising senior at Brown University and co-founder of the first-generation college student organization, 1vyG will sit on the panel. 
Although he's had an embattled history himself with institutionalized education (at one point Wale dropped out of college to pursue music), the Gifted rapper is resolute in his mission. Earlier this year, he stopped by Frederick Douglass High School in Baltimore to participate in a town hall following the death of Freddie Gray. "We trying to find a resolve right now, so don't nobody got to get put in no pound box," he said that day.
As for his performance Thursday, Wale is looking forward to it. He nodded to Obama via Twitter with a reference to one of his songs. "Flotus flower," he wrote, before poking fun at picture that only a DMV repper could get away with taking, posted by local paper, The Hill.
See Marc Lamont Hill's 5 Points to Consider When Applying to College in the What's At Stake? video below.
BET.com is your #1 source for Black celebrity news, photos, exclusive videos and all the latest in the world of hip hop and R&B music.
(Photo: Atlantic Records)