Kool & The Gang's George 'Funky' Brown Passes Away at 74
The legend co-wrote hits including the cherished party anthem "Celebration."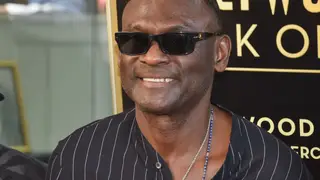 George "Funky" Brown, co-founder and longtime drummer of Kool & The Gang, passed away at the age of 74.
Brown, who co-wrote popular songs like "Too Hot," "Ladies Night," "Joanna" and the beloved party anthem "Celebration," died on Thursday (Nov. 16) in Los Angeles, per USA Today. In 2023, Brown produced the band's latest album, "People Just Wanna Have Fun," and released his memoir, "Too Hot: Kool & The Gang & Me."
According to a statement released by Universal Music, Brown died following a battle with lung cancer. He retired earlier this year – nearly 60 years after the band was founded.
Kool & the Gang has left an immeasurable mark on the global music scene. Formed in 1964, this dynamic group has been the creative force behind a slew of timeless hits. The band's original lineup consisted of Brown, brothers Robert "Kool" Bell and Ronald Bell, Dennis "Dee Tee" Thomas, Robert "Spike" Mickens, Charles Smith, Woodrow "Woody" Sparrow and Ricky Westfield. Robert is the sole surviving original member. 
With a career spanning several decades, Kool & the Gang has continually evolved their sound, seamlessly blending funk, R&B and pop influences. 
The group gained fame in the mid-1970s with hits like "Jungle Boogie" and "Hollywood Swinging." Their peak came in the late '70s to mid-1980s with diverse hits, including ballads like "Cherish" and "Joanna" and the upbeat chart-topper "Celebration," now a popular choice for weddings and celebrations.
"It's the chemistry. If the chemistry is there, bingo, it works," Brown said in an interview with NPR earlier this year. "And you want to make it happen, and you want to see people happy, and you want to be successful with it. And you want to help create a culture, a world culture, where people come together with that music. That music is bringing people together and making this one-world culture greater than it was before."
"And when you do music that's happy music, that's what it does. It brings people to the clubs to have a good time. And that's what we do. We say our prayer before we leave, and we say, let's go make some people happy."
Brown is survived by his wife, Hanh Brown, and their five children. In lieu of flowers, the family requests that donations be made to the Lung Cancer Society of America in his honor.