Kanye West Attends Daughter's 4th Birthday Party Amid Family Drama
The rapper claimed in a viral video that the Kardashian family wouldn't share the address.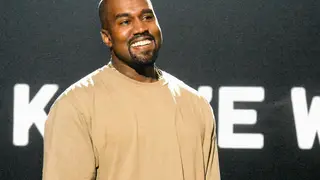 Kanye West made a public claim that the Kardashian family wouldn't share the location of his daughter's Chicago's fourth birthday party. Hours after his viral video, he was spotted at the celebration, TMZ reports.
Kanye, 44, was seen in a social media clip on Saturday (Jan. 15), driving through Los Angeles, as he expressed his frustration about not being able to attend Chicago's 4th birthday celebration.
The party was a joint-celebration for Chicago and Kylie Jenner and Travis Scott's 3-year-old daughter, Stormi.
"Ya'll, I'm just wishing my daughter a public happy birthday," the Chicago-bred rapper began. "I wasn't allowed to know where her party was."
His presence at the party occurred hours later, as Ye is spotted chatting with guests, Kris Jenner, and helping his daughter knock down a piñata.
Kanye went on to say that family drama has taken a toll on his health and the video was made public because he says he contacted Kim, the nannies, and even contacted Tristan Thompson, who shares a 3-year-old daughter, True, with Khloe Kardashian.
Following the party, Ye made another public video, thanking Travis Scott for giving him the address. He said that Kylie let him in, after having trouble getting past the security guards. He appeared happy to have attended the party.
Another report states that Kim was "shocked" by Kanye's claim of not being given the location to the party. The Page SIX source also noted that the two had plans of Chicago having two birthday parties and that it was Kanye's idea to do so.