Halle Berry Kisses Boyfriend Van Hunt in Cozy New Photos: 'Be the Woman a Man Needs'
The couple has been together publicly since 2020.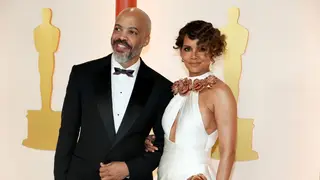 Academy Award-winning actress Halle Berry shared sweet and steamy photos of herself and musician Van Hunt on Instagram this week. Berry captioned the pictures with advice, "Don't be the girl a man wants, be the woman a man needs."
In the selfie photo, the couple is dressed casually in gray hoodies and smiling softly at the camera in one post and kissing in another.
The 56-year-old actress and the 53-year-old musician shared that they were officially a couple in September 2020. Since then, they have given little insight into their passionate relationship—often through sweet messages on milestone occasions via social media.
Earlier this year, Berry saluted Van Hunt for his birthday writing, "Happy Birthday, VanO!" She added, "It's amazing how you walked into my life and I can't remember living without YOU! Here's to many more my love 🤍 @vanhunt."
In a similar post, the musician celebrated Berry's birthday last August, writing, "Hi, baby. it's ur bday, and against ur wishes i am screaming it to the mountaintops," he captioned a montage of photos and a dancing video of the actress. "And celebrating with the world the wonderful, loving, funny, and life-giving force you are. (H)appy (B)irthday, boo. i love you with everything i got."
Berry has shared that she is thriving in the relationship. She told Women's Health in 2021, "I wish I had met him sooner so I could have loved him longer. I just feel fulfilled. I feel happy in my life romantically, as a mother, as an artist," the Bruised actress and director said at the time.
Berry added, "I'm a much better mother in this circumstance than I would have been had I stayed in a romantic relationship that didn't serve me and didn't make me feel the way I need to feel as a woman."