And The Beat Goes On: Afrochella Attracts Thousands To Ghana For An Unforgettable Celebration Of Music And Culture
Rumors that the annual, two-day festival is coming to an end are apparently false.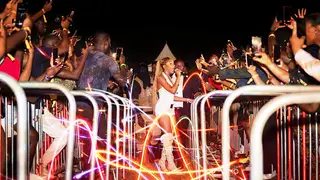 Ghana has become Africa's go-to destination, especially if you're looking for an unforgettable experience on the continent during the festive season leading into the new year. One of the main attractions that keeps people flocking back is Afrochella. The festival has been integral to Ghana's position as a hot spot for international tourists with a particular attraction for the younger, African American traveler who wants to connect to their African roots. Last week was no different as thousands of people descended upon Accra, Ghana's capital city, for the continent's largest music and culture festival.
Afrochella attracts thousands from across the globe each year to experience some of the best international and local artists, DJs, activations and food from all over Africa. The 2022 lineup was a whole vibe and included the talents of Burna Boy and Asake who both headlined the show with performances by King Promise, Stonebwoy, Gyakie, Shatta Wale, Kuami Eugene, Fireboy, Pheelz, Ayra Starr, Kofi Kinaata, and many others.
For the past five years, Afrochella has grown in size by bringing a diverse range of attendees together. According to the event's Co-founder Abdul Abdullah, no matter how large the festival becomes, it always feels like you're coming back home to a cookout with your extended family.
That sentiment was shared by those who came far and wide to attend the shows in person. "I'm from California but I felt like going to Afrochella was part of my journey to reconnecting with my roots in Africa," said Abre' Conner. "Ghana has done a good job of acknowledging its history and I wanted to come to support the things that are happening here." 
"We live in South Africa and love going to festivals, so wanted to come to this festival celebrating African culture," noted Paulette Ngobeni, Kagiso Manoko, Mpumi Shabangu, and Tsholo Mparutsa a group of friends who coordinated outfits featuring traditional prints to attend the festival.
"There's no December in Ghana without Afrochella," says Vidette Adjorlolo, CEO of Sorted Chale, one Africa's leading travel experience companies. "Every December, we cater to thousands of people visiting Ghana, it's important that we're able to support Ghanaian owned festivals. By including Afrochella in all our travel itineraries, we are able to make it possible for our chale's (friends/guests in Ga, one of the dialects, spoken in Ghana) to support and experience the festival. Beyond that, Afrochella is just a big vibe. Who wouldn't want to be at Afrochella!"
Despite a few hurdles throughout 2022, and the rumor that the festival was coming to an end, the Afrochella team says it turned out to be a truly monumental year for the festival. 
"We overcame the odds!" says Abdullah. "We still exceeded our goals and had the biggest African acts all show up for us. Plus, our security system was the best it's ever been! We also expanded our brand to include the Afro Expo, to engage thought leaders across the diaspora, and created our music museum. We had activations not just in Ghana, but also in Côte D'ivoire, South Africa, and Nigeria."
The team has already started planning for a spectacular experience in December 2023 by rebranding the event from Afrochella to Afro Future Fest.
"We will be including more of the Black diaspora and we will be activating around the world," says Abdullah. "We will continue to see more Afro Future, expanding across the continent with more collaborations. The sky's the limit."
BET.com was on the ground in Accra to witness this year's remarkable two-day festival. Here are some of our favorite moments:
King Promise

"I've been performing at Afrochella from the start; from the very first one until now. I've seen how much it's grown, from the setup of the stage to the sound, there's been elevation. It's such an experience, it's something you can't miss. Even if I wasn't performing, I'd come and watch. Afrobeats is about to be the biggest genre in the world. It's great music!" 

Burna Boy

Nigerian singer, songwriter, and record producer, Damini Ebunoluwa Ogulu otherwise known as Burna Boy, performs during the Afrochella Music Festival on December 30, 2022 in Accra, Ghana. This year's event was co-headlined by the Grammy-winning artist.

Aya Starr

"I feel at peace when I'm in Ghana. I feel at home here. It's so close to Nigeria and the culture is so similar. It's like another home. I performed at Afrochella last year for the first time, I had just turned 19. It means so much to me to perform again this year and show growth through my performance and music."  

Stonebwoy

"Afrochella is more purposed to connecting the diaspora to its roots and so this whole event is not just people coming out to enjoy good music, but it's also about  bringing us together in good spirits, in good energy. The majority of the crowd are foreigners and this is cool because Afrochella welcomes all colors.

I wasn't present in Fela Kuti's era, but every era pushes the African sound, the African culture and the African movement to the next level. This is our era and Afrobeats won't remain where we've pushed it to. The next generation will take it further." 

Asake

Ahmed Olalade Asake was initially billed to perform on the first day of Afrochella, but ended up performing on the second day as co-headliner. He thrilled fans with with his singing and dancing. 

Kwami Eugene

"I enjoyed performing here and seeing the smiles on everyone's faces, I felt like royalty. Having grown up in Ghana, it felt amazing to have so many people here supporting me and so many people from outside Ghana here singing along to my music. This year, I want to make sure my music reaches people outside of the diaspora. We're making some really good music here in Africa and everyone needs to hear it."

Gyakie

"I performed at Afrochella last year, and this year has the same good vibes. The African culture is so loud here. Ghana is such a peaceful place. The food is good, the music is good. Everybody here is about the 'soft life'. Afrobeats artists are being loud now, loud enough for people outside to hear us. A big shout out to everybody who has been lifting the African sound and  the culture."

Juls

"This is my third Afrochella. As a Ghanaian, it's always sweet to come home and play for my people. Afrochella is very diverse and the festival has been responsible for the influx of Africans and people from different parts of the world coming to experience Ghana and invest in Ghana throughout the year. I'm glad to be part of this history. In the future when people speak of Afrochella, I know that I have been there since day one."