Who's The G.O.A.T. Rap Crew? Here's A Recap Of Round 2
In the tournament to decide the greatest rap crew of all time, Round 2 had some noteworthy highlights.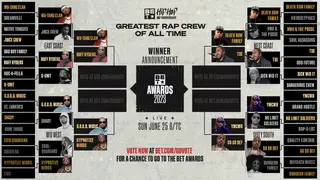 In recognition of hip hop's 50th anniversary, BET Digital, in partnership with Ambrosia For Heads, is celebrating the culture by hosting a bracket-style competition that allows you to determine hip hop's greatest crew.
Rather than having "experts" tell you who is the greatest of all time, this is your opportunity to collectively make that decision. After giving the opportunity to any and all fans to provide feedback on which crews should be included, 32 collectives from different regions, styles, and generations have been selected—all vying for that #1 spot. When the final battle is over and the last vote is cast, you will have determined who is your Greatest Rap Crew of All Time.
The Greatest Rap Crew of All Time launched with 32 collectives. After an exciting Round 2, the competition is officially down to just EIGHT crews.
In this celebration of hip hop and all of its talented crews, your vote decides the winner, so GO VOTE TOMORROW for your all-time favorite.
The East Coast Battles
As has been the case since the tournament launched, the East Coast bracket kicked things off. Wu-Tang defeated Juice Crew, while the Ruff Ryders topped G-Unit. It was a statement victory over one of the influences for Wu, while the Double-R crew flexed veteran muscle against a squad modeled after their loyalty and hard-nosed aesthetic. To win the East bracket, Wu and Ruff Ryders do battle after extensive combined histories, including DMX and Method Man songs and tours and the "Wu-Block" collaborative work between Ghostface Killah and Sheek Louch. Whether Wu-Tang or Ruff Ryders prevail in the East, they represent crews that endure today—despite suffering losses. Each of these squads is a testament to their rugged rap roots.
The Midwest Battles
In the Midwest bracket, two active crews also prevailed. Hypnotize Minds defeated Soulquarians to advance in the battle between Oscar-winning artists. In an exciting matchup between Kanye West's G.O.O.D. Music and Eminem's Shady crew, it was 'Ye, Pusha-T, Big Sean, and company that emerged victorious. Now, after years of collaborations between Juicy J and 2 Chainz as well as Kanye and Three 6 Mafia, these two squads square off. Whichever crew wins, they will represent a collective built around an artist/producer core in DJ Paul and Juicy, or West.
The West Coast Battles
In the West, the Death Row Family defeated N.W.A. & The Posse in a matchup that reflected some early 1990s rap history. Dr. Dre, Snoop Dogg, Tupac, and the Death Row fam now face another crew that fans (and artists) may often compare to them—Top Dawg Entertainment. After TDE defeated E-40's Sick Wid It, they took on Death Row to compete for a West Coast bracket winner. This regional showdown matches two crews whose members have worked together, used the same studio spaces, and have strong ties to Compton, Watts, and beyond.
The Dirty South Battles
The final Round 2 outcomes took place in the Dirty South. In one of the most exciting and significant matchups, YMCMB defeated the No Limit Soldiers in a New Orleans showdown. That battle followed years of hometown comparisons between the perceived rivals. In another same-city competition, the Atlanta-based So So Def emerged victorious against the Dungeon Family. Now, 20-plus years after Jermaine Dupri produced Bow Wow and Lil Wayne collaborations, these two crews face off to determine the winner of the Dirty South bracket.
Round 3 will decide the winners in each of the four regional brackets, as voters get one step closer to deciding the ultimate winner.
---
EDITOR's NOTE: Register for the sweepstakes for a chance to win the grand prize of (2) two tickets to the 2023 BET Awards, (2) two round-trip airline tickets, and a 2-night hotel stay on June 25. Up your chances to win by voting weekly.
NO PURCHASE NECESSARY TO ENTER OR WIN. VOID OUTSIDE OF THE 50 U.S. & D.C. AND WHERE PROHIBITED BY LAW. Open to legal residents of the 50 U.S. & D.C. who are 18 years of age or older at the time of entry. Ends at 12:00 p.m. ET on June 9, 2023. Official Rules: bet.com/grcoat-official-rules. Sponsor: Black Entertainment Television.