'We Don't Die, We Multiply': The Oral History of Bébé's Kids
Released in 1992, the first full-length animated film to feature an all-Black cast and crew celebrates its 30th anniversary.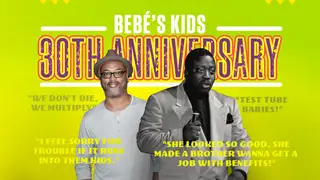 Building up a production résumé with music videos for the likes of Heavy D and Guy, Reginald Hudlin struck Hollywood gold by turning his award-winning Harvard University thesis project into a full-length feature film with 1990's House Party. Produced alongside his brother Warrington Hudlin and distributed through New Line Cinema, the raunchy teen comedy transformed Kid 'n Play from a chart-topping rap duo to bonafide A-list actors.
Helps that the film was written and directed by Reginald Hudlin on a $2.5 million dollar budget, which eventually grossed around $26.3 million. Beyond having a fun hip hop swag, House Party also featured a bevy of then-up-and-coming comedians like Martin Lawrence and A.J. Johnson and already established legends like John Witherspoon and Robin Harris, the latter as Kid's belt-swinging father, Pop.
Speaking with Diabolique Magazine in 2019, Hudlin had this to say about casting Harris after watching an advance screening of Spike Lee's 1989 classic Do The Right Thing.
"We saw Robin's part in the movie [Do The Right Thing], and we were like, 'Wow! We gotta get him in our movie!'" explained Hudlin to the outlet. "And we were warned that we shouldn't cast him because 'audiences don't understand him when he speaks.' So our response was, well, now we have to cast him!"
By then, Harris was already ushering in the next generation of stand-up comedians as a host at the Comedy Act Theater in Los Angeles. Most notably, the Chicago-native was known for his signature stand-up routine about a romantic interest with three badass kids in tow who eventually took over Disneyland.
Most people remember them as Bébé's Kids.
For Hudlin's next act as a director and producer, he wanted to reach wider audiences. One would be a revolutionary feature-length rom-com starring Eddie Murphy, and the other was a live-action television comedy based around Harris' Bébé's Kids routine for NBC. The series would be pushed through by storied television executive Brandon Tartikoff who was known for being the green light behind The Fresh Prince of Bel-Air, Saved By The Bell, and The Golden Girls. However, a little over a week after House Party hit theaters, Harris died of a heart attack following a sold-out show in Chicago at 36.
Wanting to see the project through as a way to honor the legacy of Harris, Hudlin pivoted  Bébé's Kids from live-action production to an animated feature. He'd shopped the project around to several different studios without much headway. Paramount Studios was already looking to ramp up their portfolio of animation portfolio with Hyperion Studio. Previously Hyperion was known for respected animated feature films, including Disney's The Brave Little Toaster and Rover Dangerfield with Warner Bros. Meanwhile, Tartikoff was able to bring Bébé's Kids project over from NBC once he joined Paramount as chairman.
[Ed. note: BET.com reached out for comment for this story.]
One of Hyperion Studio's staff members included animator and designer Bruce W. Smith. Producers at Hyperion told Smith that there was a project going around, and they were meeting with the Hudlin Bros. about Bébé's Kids.
"I was like, that's dope," explained Smith exclusively to BET.com. "I had been in the business for around eight years. I knew that working in this business, and I wasn't going to get a chance to work with anything like that which spoke directly to where I'm from as a Black man from South Central Los Angeles."
Smith was already familiar with Harris since he frequented the Comedy Act Theater often and was already familiar with his Bébé's Kids routine. By the time he met with Reginald, he was already a huge fan of House Party. According to Smith, they all hit it off right away. With development underway internally at Hyperion, Smith mentioned a potential art style the television series was going for.
"Visually, I was mocking things or at least imitating things that I knew I liked in television like 'The Flintstones' and 'The Jetsons,'" said Smith. "I was modeling a Black world that fit in that category I hadn't seen before."
As a chairman at Paramount Studios, Tartikoff came through Hyperion attempting to see what would be the first film greenlit under their deal with the studio. According to Smith, three projects were on the board, setting front and center with Bébé's Kids off to the side.
"Tartikoff pointed to 'Bébé's Kids' and said, 'Let's do that,'" said Smith, who would take charge as the film's director with Hudlin Bros. producing and Reginald Hudlin handling script duties.
With a production budget of under $10 million, animation teams were split between studios in Glendale, California, Paris, and Taiwan.
"We didn't have a lot of time and did not have a lot of money," Smith explained. "When you run across those elements, there are certain gorilla aspects that you must do to get the film done. But, at the end of the day, it is a film that sits in its own lane and the animation style of character design."
Key design and animation were handled in Glendale, where getting cultural aspects of Bébé's Kids [was done] as authentically as possible. According to Smith, he represented one of less than five percent of Black staff working in the animation sector at the time. However, he made it a thing to put as many Black people as he could play in positions to make the film as good as it could be.
Lennie Graves served as the animation director and would eventually get film and television work on projects like Space Jam, Spongebob Squarepants, and Star Wars: Clone Wars. Phil Mendez helped with storyboards for Bébé's Kids before working on Life with Louie and Teacher's Pet alongside Ed Bell before he worked on HBO's Happily Ever After, Ren & Stimpy, and Pixar's Soul. Before working on Frozen, Encanto, and The Princess and The Frog, Marlon West served as special effects animator.
"It was just a handful of Black folks when you need about 200 people to create a production like this," said Smith. "A lot of artists in the business aren't used to working on things that weren't outside of their culture, and there were even people on the crew who quit because they were afraid that this movie had gang affiliations and stuff like that."
Smith would work with storied casting director Eileen Mack Knight (known for her work on films including House Party, New Jack City, The Bernie Mack Show, and My Wife and Kids) to find voice-over talent. Bébé's Kids would blend the rise of animated films with the rise of stylistically raw hip hop-inspired films such as Juice. This meant lending voice acting roles to individuals who fit both lanes as the film expanded Harris' classic stand-up routine.
Most importantly, someone had to fit Harris's shoes themselves.
A then-unknown San Diego-based comedian Faizon Love was chosen to play Robin, a recently divorced man who falls for single mother Jamika (Vanessa Bell Calloway) at a funeral and is essentially tricked into taking her son Leon (Wayne Collins Jr.) and her friend's three rambunctious children out for a disastrous day at a theme park.
As a young stand-up comic at the time, Love had met Harris before bombing a comedy club. The two eventually formed a friendship with Harris, nicknaming Love as Shaka Zulu. Once Harris passed away, Love would honor Harris by ending every show with a tribute to him. During a gig in Atlanta, a representative of the Hudlin Bros. would approach him with the opportunity of a lifetime.
"She was so stunning," said Love of the Hudlin Bros. representative. "I'm like, 'Oh, I'm about to get it.' That's when she told me she worked for the Hudlin Brothers and that they were doing a 'Bébé's Kids' movie. I was like, that's weird because this is Atlanta [which is] far away from Hollywood."
He wouldn't get the role until he auditioned for both brothers over the phone and Mack Knight during a formal audition.
"I couldn't talk like Robin in a normal voice," said Love about getting down Robin's vocal mannerisms. "I could do the punchlines and jokes, but I had to learn how to speak in a regular tone during dialogue. So I studied the tapes and went out with Robin's mother. Part of the reason why people loved him was how he talked. Robin was the uncle that talked shit at the barbecue. He could make people laugh and relate to him.
There were rumors that other actors up for the role of Robin included Bernie Mac, T.K. Carter,
Walter Franks and even Rich Little, who would voice an animatronic Richard Nixon. Love spent about nine months off and on at around a thousand dollars a day recording his vocals.
Playing Robin's ex-wife, Dorothea was voiced by Chicago-native Myra J, who ironically was encouraged to take up stand-up comedy by Harris himself. When asked by producers to play an antagonist to Robin was perfect considering their history.
"We sort of improved together on stage as standup comics, and we used to call it a battle of the sexes," explained Myra J. "He would talk about women, and I would talk about men, and we would just go back and forth. So when 'Bébé's Kids' was written and they asked me to come and play the role of Robin's nemesis, I loved it."
Myra J remembers the popular scene where Robin and Dorothea send volleys of insults toward each other in the bathroom. According to Smith, the scene was supposed to end after the "wrong wedding ring" bit; however, producers decided to extend the scene because of how funny the dozens session between Myra J and Love had become.
"I just remember that it was fun with how we improved that," said Myra J. "When comics get on a roll, it's just a rhythm. It's like a dance where we just went back and forth. And when you do it with someone you haven't done it with before, it's just so fresh."
Rounding out the cast was Marques Houston as Kahilil and Jonell Green as LaShawn. Rapper Tone Lōc portrayed the youngest child, Pee-Wee, at the special request of Reginald Hudlin. According to Marques Houston, he got the role through Immature manager Chris Stokes who was friends with Mack Knight.
"That was my first everything," said Houston, who was nine years old at the time. "First movie I ever did, first theatrical, first animation. It was the first thing I ever did."
Beyond being the first role for Houston, the soundtrack itself featured the debut single of Immature with "Tear It Up (On Our Worst Behavior)," which saw production from Jermaine Dupri and Tricky Stewart.
"I thought it was dope because I got to be a part of something and bring the group [Immature] in," Houston explained. "This was the start of our career in music as well, so it was like special the way everything kind of came together."
Bébé's Kids was considered a commercial and critical flop at the time for various reasons, yet the film eventually went on to become a cult classic and a launching pad for everyone involved.
Houston says the role set him up for a respectable career in Hollywood, including the hit '90s series Sister, Sister, and the BET classic dance film You Got Served.
"I don't know if it's the same way now, but back in the day, when you would get in a room with casting directors, they would talk amongst themselves alongside producers and other casting directors," Houston explained. "I built the reputation by being able to memorize lines. Chris Stokes taught me that if you go 90 percent without the script, you're gonna get the part. I developed a good memory, which eventually led me to Sister, Sister."
Of course, Love would go on to enjoy roles on television series like Parenthood and the hip hop classic Friday. Despite having a relatively small yet effective role, Myra J later found herself enjoying a serious writing career, including Martin, House of Payne, and Meet the Browns.
Smith would continue making history in animation by creating The Proud Family and supervising animator for other Disney films, including The Princess and the Frog. Most recently, Smith co-directed the Oscar-winning short film Hair Love alongside Matthew A. Cherry and Everett Downing.
"'Bébé's Kids' represents that cool concept where we take Black kids out the 'hood and take them to Fun World," said Smith in a call with BET.com. 
"I enjoyed the ride so we could exist in this colorful area. It's a positive story at the end of the day. One that speaks to our culture and [to] our people. Damn to what [the] critics say. It helped put me on the path for things I wanted to do for the rest of my career."
---
Ural Garrett is a Los Angeles-based entertainment and tech writer documenting the intersections of pop and digital culture. Follow him at @UralG on Twitter.