Report: Paula Patton Called Cops on Robin Thicke During Custody Handoff
Things are getting ugly between these two.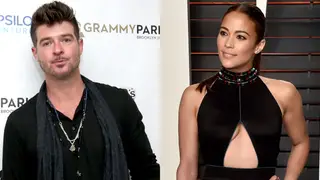 Robin Thicke and Paula Patton continue to go at it in their custody battle over their 6-year-old son, Julian, and, this time, the cops were involved.
According to TMZ, the incident occurred at a Malibu Park on Thursday, where the Baggage Claim actress was supposed to hand Julian off to the court-appointed monitor who would then transfer him to his father. 
However, according to sources close to Thicke, Patton was not only an hour late for the meet-up, but she also refused to hand Julian over to the monitor.
Patton filed a restraining order against Thicke, but the source claims he never came close to her at the meeting, during which he was also present.
However, Patton's people are singing a different tune, saying he, in fact, violated the restraining order and was mere feet away from her when she arrived. Sources close to the actress added that their son then decided on his own that he no longer wanted to go with his father and asked her to call the police.
The actress's people reportedly called the police, but she had already left the scene with Julian by the time they arrived.
To make matters even worse, Thicke was reportedly told by officers that a black SUV resembling Patton's had gotten in an accident. In a state of panic, he reportedly left to find them.
TMZ reports, however, that the actress was not involved in an accident.
See what social media has to say about the couple's nasty split below:
Get the latest on Thicke in the video above.