[Finally] Mississippi Town Forced to End School Segregation 60 Years After Jim Crow
Black kids have been getting sub-par education for too long, judge rules.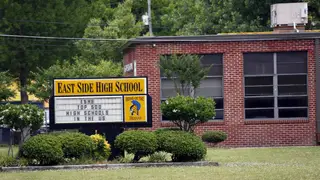 It's about time.
A town in Mississippi has been ordered to desegregate its high schools and middle schools 62 years after the Supreme Court ruled segregation to be unconstitutional. The majority Black population in Cleveland County will now be given the opportunity to fully realize their constitutional rights.
U.S. District Judge Debra Brown ruled that the Cleveland must merge its predominately Black schools with the town's historically white institutions. "The delay in desegregation has deprived generations of students of the constitutionally guaranteed right on an integrated education," Brown wrote in her opinion. "Although no court order can right these wrongs, it is the duty of the district to ensure that not one more student suffers under this burden."
CNN reported that Cleveland School District enrolls 3,600 students, two thirds of which are Black. The town's abandoned railroad tracks still serve as an unofficial line of demarcation between the virtually all Black schools on the east side, and the whiter populations on the west. 
It is alleged that the school districts continued to operate their schools "on a racially segregated basis" despite the Supreme Court's ruling more than a decade earlier. The case against the Cleveland School District was brought to the court by parents and guardians of 131 minority children 50 years ago.
A statement released by the U.S. Justice Department said that the community had testified that "the stigma long associated with the district's Black schools and the sense among Black children in the community that white children attended better schools," the statement read. "Parents of al racial backgrounds testified that they want their children to learn in a diverse environment to prepare them to encounter the world of today."
Brown's proposal will utilize a practice that has not had to be used for decades, by consolidating school districts, combining East Side High school, where all by one student is Black, with the more diverse Cleveland High, while D.M. Smith Middle, which is 95 percent Black, will be integrated with Margaret Green Junior High which student body is approximately 30 percent white. 
While it iis good news that this change will finally take place, it's still truly shocking that it took so long. Judge Brown echoed that sentiment further, saying, "This failure, whether born of good faith, bad faith, or some combination of the two, has placed Cleveland in the unenviable position of operating under a desegregation order long after schools in bastions of segregation like Boston, Jackson, and Mobile have been declared unitary." 
The federally proposed plan would set the consolidation to begin at the start of the next academic year.