Tessa Thompson And Ruth Negga Tackle Colorism In The Complex Movie 'Passing'
The movie examines racial identity through the eyes of two Black women.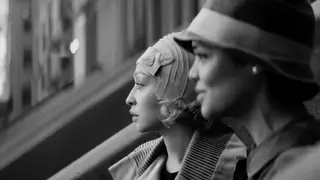 The mere mention of "passing" can evoke a real and palpable tension. For Black people familiar with this macabre tradition, which had some light-skinned people in the time after Emancipation and into the Jim Crow era living as white, the danger involved with this kind of double life feels real, part of the muscle memory. That's why Passing, a gorgeously shot black and white drama starring phenomenal talents Tessa Thompson and Ruth Negga, seems like such a thrilling concept for a film.

Based on the 1929 novel by Nella Larsen of the same name, Rebecca Hall's directorial debut oozes with confidence, nerve, and implied high stakes. Unfortunately, though, Passing never quite cashes in on its promise.

The film, lusciously and meticulously rendered, starts as Irene (or "Reenie," played by Thompson) saunters into the luxurious and chic Drayton Hotel for afternoon tea. We know right away she is a woman of means (we later learn her husband Brian, played by the always-solid André Holland, is a doctor) and that she self-identifies as Black, given the frigid glares she gets from white women and the caution with which she carries herself.
RELATED: 'Sylvie's Love' Is The Complex Black Love Story We Didn't Know We Needed

As she's having her "me" time, she runs into her old friend Clare (Negga), who soon reveals her secret: she's been passing as white to gain access to wealth, privilege, and a rich husband, played by Alexander Skarsgård.

Negga is as exquisite and captivating as Clare, giving the character a sense of bouncy, giggly carelessness but a sinister quality about her too. As Reenie listens to Clare explain her deceit, Clare's shock turns into dread as John (Skarsgård) enters and quickly reveals himself to be a devoted, unapologetic racist. He proudly and casually proclaims he hates Black people as easily as someone would say they hate broccoli or stepping on glass.

After this fraught exchange, Reenie runs home to the cocoon of her loving husband and her unmistakably Black children. She's shook and shaken. Thus begins the first of many, many sequences where Reenie is shook and shaken––an existential terror that Thompson portrays superbly.

The problem, though, is that this dread never goes anywhere. Common sense makes us understand the danger Clare is putting herself in, both in society and her own home, because we are wise enough to know the potential consequences.

Yet the potential consequences aren't really ever made explicit, leaving us hungry to see, if even for a moment, the dire fallouts of her choice. Similarly, the story begins to really heat up as Clare worms her way into Reenie's life; she wants to hang out at the Black social functions and develops a troubling affinity for Reenie's husband.

Yet—sorry to spoil this for you—nothing really ever happens, and as a result, a lot of screen time is spent following Reenie looking sad and tragic and frazzled without the actual scares to make us empathize with her. It's a thriller without a lot of thrill.

The psychological terror Reenie experiences is all in her head and on Thompson's skilled thespian face, but not in the story. As a result, Passing drags until its final shocking final act. That scene is exceedingly well done, but it's a crescendo without a build-up, a climax without foreplay.
Passing is available now in limited release and will be available for streaming on Netflix  as of Nov. 10.