Solange Reunited Crime Mob's Diamond And Princess For Met Gala After-Party
Alexa, take us back to 2004!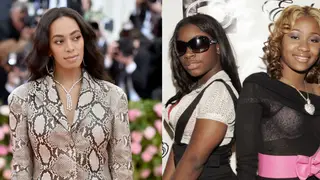 In another moment for the culture, Solange might've just took the crown for the most lit (and Blackest!) Met Gala after-party. Solo had the internet going buck-wild last night after videos hit social media of Diamond and Princess of Crime Mob infamy performing at her post-Gala party. 
The neo-soul icon was truly living her best ratchet life as shown in clips from the party where Solo and friends rapped every word of the early 2000s Atlanta rap clique's smash hit and Black Twitter's national anthem, "Knuck If You Buck."
The crunk VIP ladies had the crowd hyped as the throbbing beat of the 2004 record and another Crime Mob femme favorite, "Stilettos," filled the intimate venue. Fans were screaming and singing along, nearly drowning out the rap duo. 
Diamond thanked Solange on her Instagram page, writing "last night was mad real, Queen."

Fans instantly crowned it a moment for the culture as it was the ladies first time on stage together in a long time and following a post-Crime Mob fallout. It also got many fans excited that this might mark a return to music for the Crime Mob clique altogether. The musical champions of crunk left a void in the music industry after their 2007 release, Hated on Mostly. 

While the genre has declined from mainstream since the group's absence, Diamond and Princess' pop-up has apparently ignited hope for a return recently. In 2018, they revealed to Complex that a third studio album was in the works with Diamond and Princess slated to release a joint one separately.

For Solo's party, the pair didn't mention the joint album, but the surprise reunion was all they needed to turn Solo's party up a notch, anyway.