Black Rob's Funeral To Be Livestreamed On REVOLT TV
Find out the details.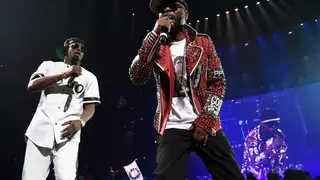 According to an Instagram post from former Bad Boy Records' Mark Curry, Black Rob's life will be honored with a Homegoing Celebration on April 30.
Diddy's REVOLT TV will livestream the event at 9 a.m. EST.
"Join us as we gather to share our favorite stories and memories, to laugh and to cry in memory of our beloved Robert 'Black Rob' Ross," the IG post's caption reads. "We will always love you!! YouTube.com/RevoltTV."
Black Rob passed away on April 17 at the age of 51. In the days following Rob's hospitalization due to kidney failure, it was revealed that Rob, born Robert Ross, was homeless and needed money to help with his medical expenses. A GoFundMe was set up with a goal of $50,000 to get Rob back on his feet, but the "Whoa!" rapper died before it was halfway to its goal. 
Diddy, who signed Rob to Bad Boy during the late 1990s, reportedly reached out to Rob this past week with an offer to help, but it's not clear what the rap mogul offered to him.