Black Male Teachers Receive $100,000 In Student Loan Debt Assistance Through New Diversity Initiative
A partnership between Box Tops for Education and Black Men Teach addresses the lack of Black male educators in classrooms.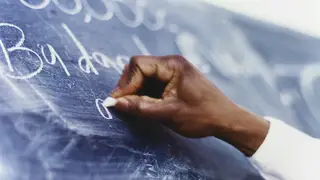 Originally, Christian Reyes set out to pursue a law enforcement career because he wanted to make a positive impact on the tumultuous relations between communities of color and the police.
"I quickly realized the law enforcement field did not align with my values," Reyes, who is of Black and Mexican background, told BET.com, adding that he changed course and decided he could achieve his goal as a teacher, becoming a role model to students of color and working toward closing the education achievement gap.
With assistance from Black Men Teach (BMT), a Minnesota-based organization that recruits Black male teachers, Reyes pursued his teaching credentials. He's now a 5th and 6th-grade teacher at L.H. Tanglen Elementary School in Minnetonka, Minn.
During his academic journey, Reyes accumulated approximately $26,000 in student loans. That mountain of debt has become manageable. He's one of five Black male teachers awarded $20,000 each to help pay off their student loans and to support their career.
Box Tops for Education, in partnership with BMT, donated the $100,000 award as part of their commitment to support teacher diversity in classrooms across the nation. Studies indicate that Black teachers have a measurably positive impact on Black students, and Black male teachers often serve as role models for students.
"This contribution shows me that Black male teachers are supported by our communities, and by lessening the burden of my student loans, I can invest even more of myself in my classroom and students," Reyes said.
"It means that I can create a safe space for my students to feel seen, heard and valued, something that I mostly did not experience growing up as a person of color in a mostly predominantly white neighborhood," he continued.
Keondre Lewis, who still owes more than $14,000 in student loans, is another recipient of the Box Tops donation. Lewis recalls seeing few, if any, Black teachers growing up. He now teaches 2nd grade at North Park School for Innovation in Fridley, Minn.
"I am now able to be that Black male teacher for students in my hometown that I didn't have when I was a kid," he told BET.com.
"This donation alleviates a lot of financial pressure that I have had almost my entire life and will allow me to truly focus on the students I teach and provide for them," Lewis added. "The donation also helps tremendously in making sure that my students continue to have a space that is welcoming and materials that support them with money I otherwise would not be able to spend."
Lewis and Reyes emphasized that Black men play a critical role in the education system. BMT Executive Director Markus Flynn explained to BET.com that Black male teachers aren't just instructors.
"They are role models who impact the performance and lives of their students and demonstrate how their students can also be capable of greatness," Flynn stated. "It is essential for students to have diverse educators in their classrooms to challenge them on different ways of thinking and foster inclusivity starting in elementary school."
Helping Black male teachers pay down their student debt enables them to pour more of their resources into their classrooms and students. Public school teachers typically spend an average of $459 of their own money each year on their classroom, the National Education Association reports. Doing that is far more difficult for Black educators who have student loan debt.
Black graduates borrow at a higher rate than other groups, with more than 80 percent of Black bachelor's degree recipients owing an average of $34,000, according to data from the Institute for College Access and Success. It's more debt than white, Latino and Asians owe after graduating. Unsurprisingly, Blacks also default at a higher rate.
Nationally, President Joe Biden announced a new plan in August to wipe away up to $20,000 of federal student loan debt. Individual borrowers who make less than $125,000 a year and married couples or heads of households who make less than $250,000 annually will see up to $10,000 of their federal student loan debt forgiven.
Lewis and Reyes are among the 2 percent of teachers across the country who are Black males, according to U.S. Department of Education data on educator diversity released in 2016.
Overall, about 80 percent of public school teachers identify as non-Hispanic Whites, while Blacks accounted for just 7 percent of teachers, the Pew Research Center reported, based on data from the National Center for Education Statistics in the 2017-2018 school year. The report highlighted that the student population is becoming more racially and ethnically diverse while the teacher workforce remains predominantly white.
Black teachers make a difference in the academic success of Black students. A Johns Hopkins University and American University study published in 2018 found that Black students who had just one Black teacher by third grade were 13 percent more likely to enroll in college, and those who had two Black teachers were 32 percent more likely.
Funds for the Black male teacher student loan program and other equity in education initiatives are funded above and beyond the core Box Tops program, Lilly Moeding, brand experience manager for Box Tops, told BET.com.
"The cash earned by receipts in the Box Tops app will continue to go to the school of the participant's choice as it always has," Moeding added. "The passion that Box Tops participants have shown in giving back to the community and supporting education is the reason why Box Tops continues to partner with organizations like Black Men Teach, to help the students who need it the most to reach their fullest potential."
Reyes said he has a clear vision: "My career goal is to teach students of color that they can excel no matter what neighborhood, economic status or household environment they come from."
Here's how you can use Box Tops app to support a school in need.