Al B. Sure! Kicks Off National Advocacy Role as Ambassador for Liver Awareness During October
The singer says he wants "to revolutionize healthcare access and bridge the glaring disparities."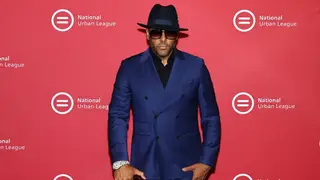 Al B. Sure! is stepping into a new role as Ambassador for the American Foundation's Houston Liver Life Walk in association with Houston Methodist Hospital on Oct. 28.
Houston Style Magazine reports that its been one year since the singer received a liver transplant. Last summer, Al B. Sure! experienced numbness on the left side of his body and collapsed. He alerted his friend DJ Eddie F, who encouraged him to visit the nearest Emergency Room. 
According to the Liver Foundation, Dr. Uday M. Khosla M.D., Nephrologist and Managing Partner at Remix Medical, PLLC, the medical professional leading Al B. Sure! 's medical team, stated that within 90 minutes of his collapse, he was placed on a ventilator, placed in a medically-induced coma, and put on dialysis. Dr. Khosla emphasized that Al B. Sure! was in a critical condition with organ failure, and immediate intervention was needed to save his life.
"The sheer odds he overcame highlight his immense spiritual, psychological, and physical strength," Dr. Constance M. Mobley MD, Ph.D. told Houston Style Magazine.
 Al B. Sure! now wants to revolutionize healthcare access and bridge the glaring disparities. Houston Style magazine says, "He extends heartfelt gratitude to the relentless team at Houston Methodist Hospital, the American Liver Foundation, and its visionary CEO, Lorraine Stiehl, for their unwavering support."
The Liver Life Walk, a prominent effort led by the American Liver Foundation (ALF), strives to build community, raise awareness, and generate essential funds for individuals with liver conditions and their families. Alise Jackson, the dedicated National Senior Manager of Events at ALF, has played a key role in bringing the #WalkwithAlBSure initiative to fruition.
Liver Life Walk aligns with Al B. Sure!'s podcast debut, "DON'T LET THE LOVE SONGS FOOL YOU!" Find it on Spotify, Apple Podcasts, and more at www.TheAlBSurePodcast.com . Produced by Al B. Sure! and supported by Gentry Thomas and CJ "Memphis On Air" Johnson, the podcast promises inspiring stories and music.