Clarence Thomas Didn't Disclose Tuition Fees Wealthy GOP Donor Paid For His Grandnephew, Report Says
The Texas billionaire also lavished luxury vacations and bought family property from Thomas, none of them disclosed.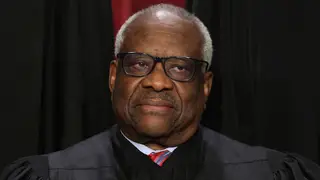 More evidence has surfaced involving Supreme Court Justice Clarence Thomas' ethics – and alleged corruption – surrounding him not disclosing expensive gifts from a Republican mega-donor while sitting on the high court's bench.
ProPublica reported Thursday (May 4) that Dallas billionaire Harlan Crow, whom Thomas has called one of his dearest friends, paid private school tuition for the justice's grandnephew Mark Martin. It was a gift that Thomas reportedly failed to disclose.
After ProPublica, a nonprofit investigative journalism news outlet, published the revelation, Mark Paoletta, a lawyer who has represented Thomas and his wife, Virginia "Ginni" Thomas, confirmed the report.
Paoletta said Crow paid one year each for Martin's tuition at Randolph-Macon Academy and Hidden Lake Academy. ProPublica estimated the two years of tuition amounted to about $100,000.
According to ProPublica, Thomas failed to report the tuition payments from Crow on his annual financial disclosures. Interestingly, Thomas disclosed a $5,000 gift he received from another friend for Martin's education given before Crow's tuition payments – raising questions about why the conservative justice felt he didn't need to report Crow's far larger gift.
This is the latest investigative story from ProPublica to reveal Thomas accepting expensive gifts from Crow without disclosing them. The gifts included luxury vacations and Crow's purchase of property from the justice's family – none of which Thomas disclosed.
Thomas did not respond to ProPublica's questions about this latest revelation. He previously defended not disclosing Crow's gifts by saying that he is a close friend and believed he didn't have to disclose the luxury trips.
Crow told ProPublica that neither Thomas nor his wife Ginni asked him to pay for Martin's tuition at the two private schools. He sent this statement to the outlet:
"Harlan Crow has long been passionate about the importance of quality education and giving back to those less fortunate, especially at-risk youth. It's disappointing that those with partisan political interests would try to turn helping at-risk youth with tuition assistance into something nefarious or political."
The statement added that Crow and his wife have "supported many young Americans" at a "variety of schools, including his alma mater," Randolph-Macon Academy.
But there's growing concern among Democrats about Thomas' ethics and Crow's possible influence on the Supreme Court justice.
"With every new revelation in this case, it becomes clearer that Harlan Crow has been subsidizing an extravagant lifestyle that Justice Thomas and his family could not otherwise afford," Sen. Ron Wyden, an Oregon Democrat who chairs the Senate Finance Committee, said in a statement. "This is a foul breach of ethics standards, which are already far too low when it comes to the Supreme Court."
Wyden called for Crow to "provide a full account of the gifts he provided to Thomas' family" by May 8. "Should he fail to comply, I will explore using other tools at the committee's disposal to obtain this critical information," the senator said.
But Thomas' ethics is a partisan issue in Congress. GOP Sen. Josh Hawley of Missouri said it was "just the latest installment of the left's multi-decade campaign to target Justice Thomas," the Associated Press reported.