Cardi B Jokingly Predicts How She Will React To Adele's New Music
"Adele gonna make me argue with my man," she tweeted.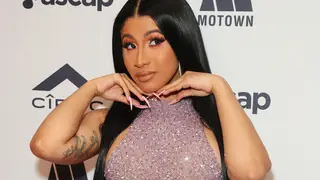 We are all prepared for some new music from Adele who is slated to make her comeback on the scene with her new single "Easy On Me" on Friday (Oct. 15).
Ahead of the release, Adele shared a snippet of the track featuring an emotional ballad and Cardi B had a hilarious reaction to the teaser. "Adele gonna make me argue with my man before my birthday," the "WAP" rapper said on Twitter. She celebrated her 29th birthday on Monday (Oct. 11).
Lyrics on the new ballad include: There is no gold in this river that I've been washing my hands in forever. / I know there is hope in these waters, but I can't bring myself to swim when I am drowning in the silence, baby let me…, MetroUK reports.
It has been nearly six years since Adele released a single after she took an extended break from releasing music following her third album 25 in 2016. 
In 2019, she filed for divorce from Simon Konecki after the pair secretly wed just the year before. She spoke with Vogue US and UK about her divorce in an interview.
"It just wasn't… It just wasn't right for me anymore," she said. "I didn't want to end up like a lot of other people I knew. I wasn't miserable miserable, but I would have been miserable had I not put myself first."
Adding, "But, yeah, nothing bad happened or anything like that."