Abbott Elementary's Sheryl Lee Ralph Believes Gregory and Janine Need Therapy
Janine, played by actress and show creator Quinta Brunson, entered her selfish era following the season two finale.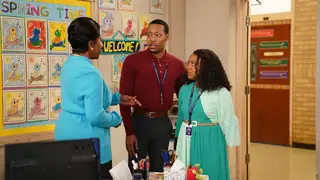 The season two finale of Abbott Elementary ended last April with fan favorites Gregory and Janine, played by Tyler James Williams and Quinta Brunson, deciding to remain friends rather than explore their once-budding romantic relationship. While the decision disappointed many viewers, cast member Sheryl Lee Ralph stands firmly behind the move noting that she believes the two could use some therapy before romance.
In a recent interview with Deadline, Ralph, who plays veteran teacher Barbara Howard on the critically acclaimed ABC series, revealed she "used to" champion the idea but has since changed her position.
"I know I'm in the show, but watching it, I was like, 'Oh my God, this [would make] such a great movie.' And the love between them? I just wanted to shout, 'Yes, man, go on and kiss the girl,'" the former Broadway star revealed, recalling the two almost sharing a kiss in season 2's episode titled "Holiday Hookah. "But that is not what happened. It didn't work out that way," the actress added.
The Moesha star felt the pair were "two young people who definitely need therapy." She continued, "I don't know what the writers have planned, but if they were real people, I would say, 'Look, you two young people, you need some therapy. You've got some issues that you need to work out, and that's what you need to do before you take any of this further.'"
The actress playfully poked fun at the characters noting that "Janine has mommy issues, and Gregory's got daddy issues. Lord have mercy."
Season three of the award-winning show has already been given the green light, and the series is expected to return sometime in 2024. The show also stars Janelle James, Lisa Ann Walter, Chris Perfetti, and William Stanford Davis.