Young Thug's Lawyer Seeking To Remove YSL Polo From RICO Trial Over Erratic Behavior In Court
Brian Steel has filed a motion.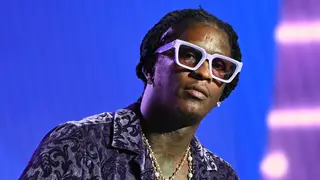 Young Thug's legal team is filing a motion to remove YSL Polo from the rapper's RICO trial after he was witnessed acting erratically during court proceedings.
According to documents obtained by XXL, attorney Brian Steel filed the appeal on Friday (September 1) to have the Atlanta native's affiliate removed from the trial due to his actions inside the courtroom that include "using movements with his hands, threatening the prosecutors as well as the jurors." Additionally, Steel claimed those actions would affect "Thug's constitutional right to a fair trial that is not prejudiced."
In footage from court proceedings on August 31, Polo can be seen moving his hands and making several gestures with his head.
This week, Judge Ural Glanville and Polo's attorney, Suri Chadha Jimenez, will meet at another hearing to assess the competency of the latter's client. Judge Glanville has stated he doesn't believe YSL Polo is attempting to seek attention with his behavior.