DJ Squeak, 26, Of Pivot Gang Shot And Killed In Chicago
The rapper was part of the Pivot Gang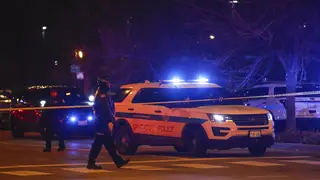 DJ and producer Squeak, a member of Chicago's Pivot Gang, was shot and killed on Monday (Aug. 16). He was 26.
The Chicago police said "an unknown offender" fatally shot the producer, born Javunte Wheeler, and his uncle, Derion S. Hood, 27, striking both men in the head, PEOPLE reported.
Both were taken to a hospital but died from their injuries.
"We are heartbroken to share the news of the passing of one of our own, Squeak Pivot," tweeted Pivot Gang, a hip hop artist collective based out the west side of Chicago. "We appreciate the support from the community at this time and ask that you keep Squeak's family and friends in your prayers."
Investigators were examining video evidence related to the shooting, the Chicago Sun-Times reported.
Surveillance video from a Ring doorbell appears to show that a passenger in Squeak's car killed the two men, the DJ's sister, Rayvita Pernell, told the newspaper. 
She stated that Squeak went to visit his grandmother. While talking to his uncle outside the vehicle, the suspect stepped out of the car and fired at Squeak and Hood. The passenger then jumped back into the car and drove away.
"This person was in the car with him and he knew him," Pernell told the Sun-Times. "So apparently he trusted him and took him to his grandmother's home and was talking with him at the trunk of the car and this is what happened."
In a 2020 interview with Chicago outlet The Triib, Squeak said his older brother, Frsh Waters encouraged him to join Pivot Gang. Frsh Waters was a cofounder of the group with hip hop artists Saba, Joseph Chilliams, MFnMelo and John Walt.
"I DJ'd for all of them. They ain't have DJs, so I said f— it. I'll just teach myself how to DJ and then I started getting booked," Squeak said.
Condolences are pouring on social media. Here are just a few of them, including one from Chance The Rapper.
A balloon release ceremony for Squeak and his uncle is scheduled for Aug. 18 at Lafollette Park.