Commentary: Why Virginia's Justice System Needs an Overhaul
Why Virginia's justice system needs an overhaul.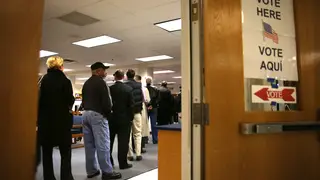 The right to vote is not only the most fundamental right of American citizenship – it is a foundational right. Nearly every historical struggle in our nation has involved voting, from the American Revolution slogan "No Taxation Without Representation" to the civil rights movement.
In Virginia, however, this right is denied to certain citizens as a matter of course.
Under a state law that prohibits many people with felony convictions from voting, more than 370,000 Virginians – people who have completed their sentences, rejoined their communities and rebuilt their lives – have no voice in our democracy. The policy disproportionately impacts African-Americans, with a staggering one in five of Virginia's Black adult population stripped of their right to vote.
This year, Gov. Bob McDonnell took a big step in the right direction by establishing a new process to automatically restore voting rights to people with nonviolent felony convictions who have completed their entire sentence, including probation and the payment of all court ordered costs. But with hundreds of thousands still banned from the ballot box, there is more work to be done in Virginia.
The massive numbers behind Virginia's citizens without the right to vote, however, are not only the result of a single law. It is the result of a troubling justice system that has given rise to Virginia's status as a mass incarceration state.
As detailed in a recent Justice Policy Institute policy brief, Virginia's bloated justice system is a statewide crisis. While the rate of violent crime in Virginia has stayed relatively the same over the past three decades, the number of prisoners has nearly quadrupled. And even though Virginia has among the lowest rates of violent crime (No. 47 in the nation) and property crime (No. 44), it ranks among the top states for its rate of imprisonment (No. 14). African-Americans are overrepresented here, too, comprising roughly 20 percent of Virginia's adult population but 60.8 percent of state prison inmates.
Driving Virginia's corrections population are misguided policies. The state's aggressive stance on arresting people for drug violations, for example, has not reduced drug use and only packed its prisons. In 1995, Virginia eliminated parole and instituted a system that requires inmates to serve at least 85 percent of their sentences. Also during the '90s, the state lengthened sentences for many offenses and increased the number of crimes that qualify for jail time.
Improving the state's criminal justice system will require changing its polices, such as focusing more on treatment for substance abusers and less on incarceration. Simply raising the threshold for felony grand larceny – which hasn't been increased to account for inflation in more than three decades – from $200 to $600 would reduce the incarceration rate. And a constitutional amendment guaranteeing automatic rights restoration for all who have served their time is the kind of permanent solution Virginia needs.
Virginia's justice system and collateral consequences are past due for an overhaul. Getting back the right to vote helps to reintegrate people back into society, preventing future crimes. And by enacting policies to reduce the number of people in jail and prison in the first place, the state can invest in real priorities that will strengthen all of its families and communities.
Judith Browne Dianis is the Co-Director of Advancement Project. Marc Schindler is the Executive Director of the Justice Policy Institute.
BET National News - Keep up to date with breaking news stories from around the nation, including headlines from the hip hop and entertainment world. Click here to subscribe to our newsletter. 

(Photo: Alex Wong/Getty Images)