For The Culture: Danai Gurira Initially Wasn't Into Her Shaved Head For Her 'Black Panther' Role
She did it all for Okoye.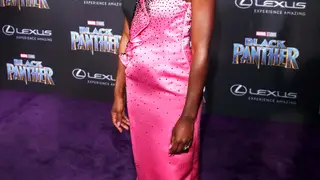 Marvel's Black Panther is taking the world by storm — and the countdown is real for folks!
Speaking of beauty, actress Danai Gurira recently revealed she wasn't exactly thrilled to shave her head to play her strong warrior-esque character.
For background, she plays Okoye — a leader of Dora Milaje, an all-female Wakanda Special Forces, who all rock shaved heads — who taught her, "You don't have to have hair to be beautiful." How profound! 
"It was amazing the idea of the Dora Milaje, the concept of them, and then to see them come to life, and then these outstanding women who I started training with one by one," Gurira confessed at a Black Panther press conference to HelloGiggles.
"Like I was the first one to get my head shaved and in theory it sounded amazing. Then the day came and we're doing it today and I was like, 'Today?' Then it happened. Then you go into the restroom to wash your hands, and you look up and you're like, 'What the?' So that took a few days, and then all the girls start coming in. We'd all been bald'ed, one by one. Everybody had their caps on. Then the pride started to grow."  
While seeing her head completely shaved did take some adjusting, it didn't take long for her to rock the new style with pride: 
"The beauty of how [director and co-writer Ryan Coogler] wrote that moment, I love that moment where she doesn't want a wig," the actress continued.
"She doesn't want to cover up. This is her joy and her pride, in walking with that bald head, with that tattoo on it. I was like, it's so subversive, and it's so subversive in the right way to say that's not necessarily beauty. You don't have to have hair to be beautiful."
Honestly, 2/16 can't come soon enough. What do you think of Danai's new look — should she keep it or return to her roots? Let us know!