Kareem Abdul-Jabbar: Will Smith 'Perpetuated Stereotypes About The Black Community' By Slapping Chris Rock At The Academy Awards
The basketball icon also criticized Smith's acceptance speech for Best Actor.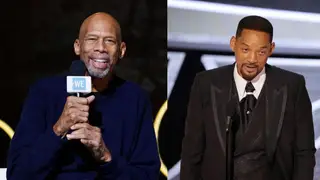 Basketball icon Kareem Abdul-Jabbar has sounded off on the now infamous moment between Will Smith and Chris Rock at the 94th annual Academy Awards.
The 74-year-old wrote in a blog post about Smith slapping Rock, "With a single petulant blow, he advocated violence, diminished women, insulted the entertainment industry, and perpetuated stereotypes about the Black community."
He also criticized Smith's acceptance speech for best actor for his role as Richard Williams in King Richard,  "Worse than the slap was Smith's tearful, self-serving acceptance speech in which he rambled on about all the women in the movie King Richard that he's protected. Those who protect don't brag about it in front of 15 million people. They just do it and shut up."
Abdul-Jabbar closed with, "I don't want to see him punished or ostracized because of this one, albeit a big one, mistake. I just want this to be a cautionary tale for others not to romanticize or glorify bad behavior. And I want Smith to be the man who really protects others—by admitting the harm he's done to others."
In case you missed it, just before presenting the award for the documentary feature category, Rock made a joke about Smith's wife Jada Pinkett Smith, saying, "Jada, I love you. G.I. Jane 2, can't wait to see it." Rock's joke was in reference to Jada's close-shaved head, a possible result of her recent struggles with the hair condition alopecia.

G.I. Jane was a 1997 film starring Demi Moore who played a character that shaved her hair off during a vigorous U.S. Navy program. The popular film tackled sexism in the military.
After the joke, Smith, 53, walked on stage and slapped Rock. He returned to his seat and shouted at the 57-year-old to "keep my wife's name out of your f***ing mouth." Within the hour, Smith won the Oscar for Best Actor for his portrayal of Venus and Serena Williams' father Richard Williams in King Richard. During his acceptance speech, Smith did not specifically apologize to Rock, however, he issued an apology yesterday (March 28).
Chris Rock was reportedly unaware Pinkett-Smith had alopecia.

Los Angeles police officials were made aware of the incident, but Rock declined to file a police report or press charges. The Academy released a statement that they will conduct a "formal review" and announced that its Board of Governors will meet on Wednesday (March  30), according to The Hollywood Reporter.