U.S. Air Force Veteran Being Detained In Ukraine By Russian Separatists
In the middle of the ongoing conflict between the two countries, Suedi Murekezi was arrested allegedly for joining pro-Ukraine protests in a separatist region.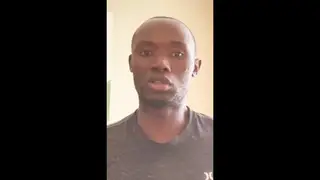 As news of the plight of WNBA player Brittney Griner continues to make headlines for her trial in Russia, a U.S. Air Force veteran is being detained in Ukraine under what his family says are false accusations.
According to The Guardian, Suedi Murekezi, 35, was arrested last month by pro-Russia separatists in Kherson, a southern Ukraine city recently captured by Russian forces. The Rwandan-born American, a cryptocurrency investor, had been living there for the past two years because of the popularity of Ukraine and crypto enthusiasts since loosening its regulations on digital currency.
Murekezi's family says he's being unjustly accused of joining pro-Ukraine protests that took place in March. "We are all extremely worried for his well being. He is obviously in danger," his brother, Sele Murekezi, told The Guardian, which says the family has been in daily contact with him.

RELATED: Former MSNBC Analyst Malcolm Nance Joins Foreign Fighters In Ukraine
After not hearing from his sibling for a month, Sele Murekezi got a call on July 7 from Suedi, telling him that he was being detained in Donetsk, which has proclaimed itself a pro-Russian separate entity from Ukraine since 2014. He said he was in the same jail as two other Americans being held there, Alexander Drueke and Andy Tai Ngoc Huynh, both volunteers accused of being mercenaries who could face the death penalty. It is not known if Murekezi will face the same charges.
Murekezi was born in Rwanda in 1985 but immigrated to the U.S. during the 1994 genocide settling with his family in Minnesota. He served in the U.S. Air Force, leaving in 2017, and began visiting Ukraine shortly after establishing permanent residence there in 2020.
He had been missing since July 8; his friends say when they no longer saw his Dodge Challenger parked outside his home. "He told us he was planning to use his car for the first time in a while in search of fuel," said a person identified by The Guardian only as "Vladimir." "We all warned him that driving was a bad idea. "Of course, such a car was going to attract attention from the Russian police."
Leo de Lange, a friend of Murekezi, told The Guardian that after his disappearance, video of him showed up on Telegram channels run by Russian separatists, with him being ordered to say "glory to the Russian army" under duress.

Both men say that Murekezi did not participate in any pro-Ukraine protests. "I know for a fact that he did not go out and protest," said De Lange.

Russian separatists and Russian prosecutors did not respond to requests for comment from The Guardian. It is unclear how many Americans are being held by Russians in the Ukraine.