See Mila J's Super Sexy Playboy Photoshoot
Jhené Aiko's older sis is on her own in next to nothing.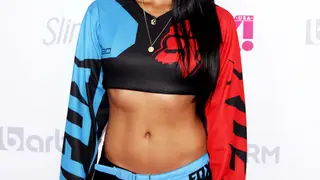 The multitalented member of the Chilombo clan sat down with Playboy and opened up about feeling sexy, confidence and not giving a f**k. When asked about what gives her a dopamine rush other than music, her answer was similar to most of ours when she replied, "Some good love, good food. I like Italian food. Fettucine and some garlic bread always gets me. Give me that and I'm a happy camper."
Guess we know what her cheat meal is — but we know she's not eating that all the time because the body is bangin'. 
Miss Mila is also known for her edgy style, but she's a girl that can do it all. "I'm either a total tomboy in baggy sweats or going all out," she told the mag. In this instance, she's wearing leather bustiers, a slinky and clingy black gown and sky high strappy heels. 
Still, with or without lingerie, she feels fated to have gotten a Playboy editorial. "It's funny: Everyday I wear a little Playboy pendant around my neck. I'm obsessed with Playboy. I guess I've always been comfortable with sexuality, so as a teen, it was just beautiful to me, not like, "You're being bad," you know what I mean? It's just about being."
Check out Mila J's sexy spread in the new and improved (no longer nude) Playboy here.