Melanin Magic! Here Are The Best Foundation Shades For Dark Skin Tones
Naturi Naughton, Lupita Nyong'o and Amara La Negra's makeup artists spill their shade-matching secrets.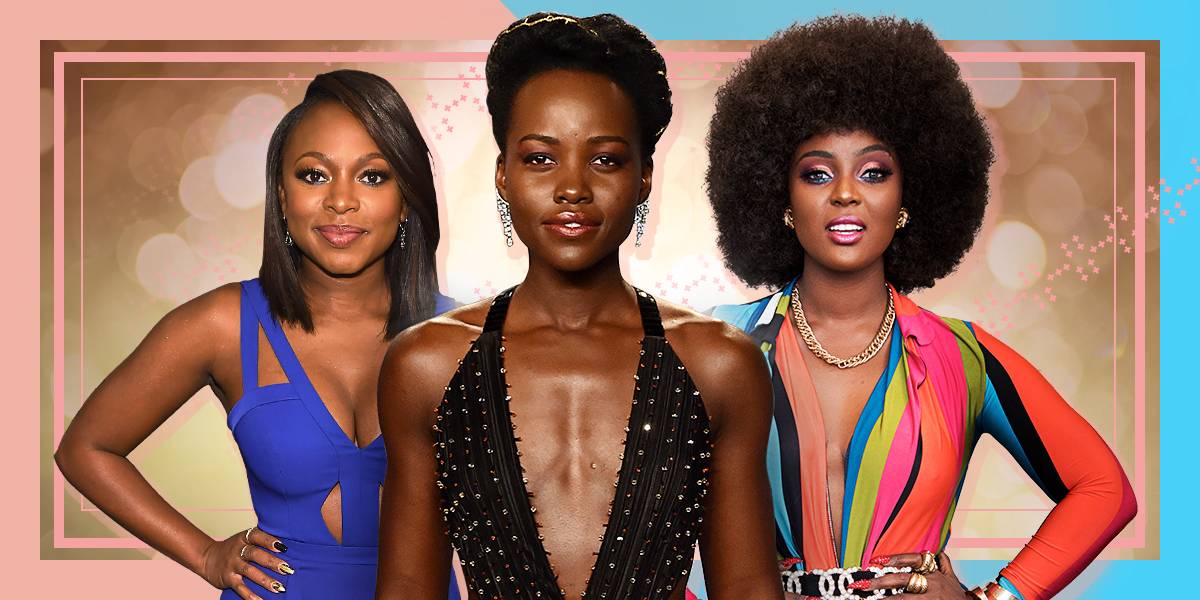 We know our Black is beautiful! But that doesn't make it any easier to find the right shade to make our melanin pop — even in 2018. We've all had the nightmarish experience of thinking we look fly at home, then when we hit the streets we look hella ashy. Don't front!
For our deeper and darker sisters, it's even harder to match their coveted chocolate-ty hues. TGFF (Thank God for Fenty), but shouldn't we be able to enjoy other options too? One solution simply does not fit all!
To help, we tapped the makeup maestros behind beauties Lupita Nyong'o, Amara La Negra, Kenya Moore, Estelle and Yvonne Orji to see what they use on their A-list clientele. Below, they offer the best shares and expert tips to keep you looking flawless no matter your shade. Amen to that!
Nick Barose Says:

"[The biggest mistake] is being literal with the way the color looks in the packaging," explains Nick Barose, who works with Lupita Nyong'o, Gugu Mbatha-Raw and Uzo Aduba. "It's really more about how the color and formula translates onto the skin.

"Sometimes a color that looks like it's your shade in the bottle, it might end up being too dark for your face once blended in. So, when choosing colors, be open-minded and be sure to try on the face, not the hands. Remember, your hands will [most likely] be darker or lighter than your face."

Pro tip: "Occasionally I use two different colors, like one in the center of the face and one darker around perimeter of the face (on Lupita, it's Lancôme's Teint Idole in shades 540 and 555), then blend with a damp Beautyblender. It goes on seamlessly, this way the color really blends in to the darker areas near the jawline and keeps your complexion brighter toward the center."

"[This foundation] gives good coverage, and oil-free so it doesn't turn dark skin shiny looking. It's also easy to blend, long-wearing and looks natural. It's my favorite for Lupita."

Erika La Pearl Says:

"One of the No. 1 problems I have found is that women of color to try and match the foundation on their face. My opinion is a woman should match the foundation on their chest," explains makeup artist Erika La Pearl, who works with Amara la Negra, Cardi B, Marlo Hampton and Trina.

"Working with women of all colors, I have noticed when you apply some foundations to your skin tone, when it dries, the color of the foundation gets darker, leaving a contrast between your neck and your face," she continues. "Most women do not use the correct lighting [when applying foundation], this in turn will give a distorted match. It is always a good idea to invest in a vanity mirror."

Pro tip: "One technique I use is if I am having trouble finding the color I need, I use a shade lighter versus darker," explains Erika. "I find that powders give me the color palette I want versus a liquid in these situations. Also, I try to stay close to the color of the chest since I am not afraid to blend more than one powder combination to give a great finish."

"In my opinion, Black/Opal is excelling in the foundation market. The foundation deepens into the skin and gives a smooth surface – this way you do not need color corrector."

Mimi J Says:

"For deep skin tones I love BlackUp! I love the fact that they have different coverages, finishes and undertones for dark skin women." 

Pro tip: "Invest in an orange color corrector to even out dark spots. Many women opt for heavy coverage for discoloration and dark spots, when you can just conceal those spots with a good corrector and/or concealer," Mimi explains.

"Once you even those spots out then you can blend in your foundation using a stipple brush or Beautyblender for a more flawless finish."

"The sticks are amazing and they have a great range of shades for women of color."

AJ Crimson Says:

"Many brands think all deep skin tones are cool! This is incorrect, as they're likely to be more warm, with yellow and sometimes olive undertones," shares celeb makeup artist AJ Crimson, who works with Letoya Luckett, Estelle, Regina King, Lauren London and Serayah McNeill.

"Plus, many beauty lines just don't go deep enough. When she does find a brand with range like AJ Crimson Beauty, she should match to the lightest shade in the center of her face. Then, match to her forehead and jawline. Finally, she can add a third shade for the contour, which would be the darker shade placed in the hollows of the cheeks. Yes, three shades — because she is not one color all over!"

Pro tip: "[Use lipstick as contour option] whether in a deeper skin tone or deep color like a shade of raisin or burgundy or chocolate, deep purples," says AJ. "I find swatching a deep lipstick in the contours of the cheek and buffing in works magically and looks so beautiful with a pop of color, so you don't really need to add blush!"

"It has a freshness that natural skin enjoys. With full coverage capabilities, it's great for both dry and oily skin! Plus, it's infused with vitamin E, which provides benefits over time."

Camara Aunique Says:

"I'm just happy that brands are starting to get it," shares celebrity makeup artist and beauty expert Camara Aunique, who works with Yvonne Orji, June Ambrose and Tia Mowry. "When I worked backstage, it would get scary — I remember using a black eyeshadow to contour a woman with deep tones! So, I just want to salute the brands that created beautiful products that actually work. 

"[Don't] give up too easily on finding the right product that works for you," she says. "Not every product works for everyone, so head to your local makeup store and ask for samples to start testing!"

Pro tip: "Use your fingers to warm up your foundations really nicely, that way you can see the color once it touches your face. I say take a pump of foundation and apply it directly to your face [as opposed to a sponge or brush.]"

"This HD foundation oxidizes nicely and looks natural on the skin."

Jonet Williams Says:

"A brand might launch a new foundation in 20 shades — but only offer four shades for dark to deep dark skin tones," explains makeup artist and male groomer Jonet Williamson,​​ who works with ​Serayah McNeil, Lion Babe, Zonnique and Regina Hall.

"Among these four shades, typically only one of them will have an olive undertone. This means that a dark to deep skin toned woman with an olive undertone has about a 1 out of 20 shot at finding her perfect match. That's a five percent chance!"

To find a winner, "Find a beauty influencer similar to your complexion and see what she's using! This will most likely open up new options that you may have never considered!" she says.  

Pro tip: "I find that a lot of women can't find their true match if they have a bunch of different undertones in their skin. Their neck and chest might have more of a warm reddish undertone, while their face has a little bit more yellow," explains Jonet.

"In this case, I'd recommend bringing up the color from your neck into your face at the jawline and perimeter, then highlighting under eyes and center of face with yellow/golden tones to create a natural balance. If your issue is being between shades, then ​I'd suggest ​​buying ​the two to mix."

"When it comes to dark/deep skin tones, I find that little to no​ mixing is needed to get that perfect match [with this foundation.]"