Danielle Bregoli, The 'Cash Me Outside' Girl, Responds After Viral Video Of Her Darkened Skin
The 17-year-old has an explanation for her noticeably different skin tone from the clip.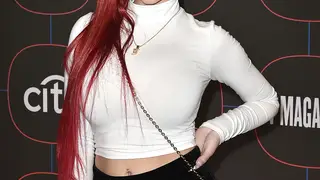 After coming under fire for debuting her noticeably altered new beauty look, Danielle Bregoli, originally known by her Dr. Phil appearance as the "Cash Me Outside" girl, has a response to the controversy.
On Monday (April 6), the 17-year-old rapper posted a set of videos to her Instagram page in which her skin was noticeably darker than its usual shade. The clips made their way across the Internet, and soon, Bregoli's name became a trending topic on Twitter as the criticism rolled in. Her new appearance was met with "blackfishing" accusations, sparking debates on cultural appropriation.

At first, Bregoli jokingly reshared a post in her Instagram Stories stating that her "transformation into a light-skinned Black woman was almost complete." With the post was a woman defending her against the criticism, claiming that her critics were simply jealous of the wealth and fame she's amassed since her disreputable debut on Dr. Phil.  "Aww, I'm trending, thank you," she responded. However, as the backlash continued to mount, it didn't take long for Bregoli to fire back with more words for her critics. Expectedly, she waved off the claims, much like how she responded to the backlash over her box braids back in December of 2019.

"Millions of people [are] sick, thousands dying every day and y'all worried about me getting makeup done for a photoshoot? I'm usually the wild one but y'all need to chill and focus on what's important right now," she wrote.