Niecy Nash Celebrates Her First Pride Month With Wife Jessica Betts
The actress got emotional in a Tik Tok video.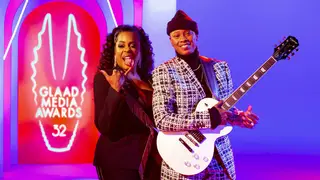 Celebrating her first Pride Month, actress Niecy Nash couldn't help but to get a little emotional. 
Posting a heartfelt Tik Tok video, Nash was seen crying tears of joy while hugging her wife, Jessica Betts."Wishing the greatest love of my life a happy Pride Month," Nash says in the video, adding "These are definitely tears of joy." 
Nash also kicked off the month on June 1 with a photo from her wedding ceremony with Betts. The couple tied the knot last fall. 
"Happy #pridemonth we feel the love and we are sending it right back! #ILoveItHere."
In a separate post, Nash rocked a crocheted rainbow bikini, smiling from ear to ear. 
"Stepping into my first #pridemonth like...❤️🧡💛💚💙 I'm accepting invitations, gifts, & welcome packets! I'm nominating [Colman Domingo], [Ryan Murphy], [Laverne Cox] as my honorary Pride Fairy Godparents to show me the ropes! And [Jessica Betts] to be my guide."