Drake Sells Hidden Hills "YOLO Estate" For Cool $12 Milly, Cops $50 Million LA Mansion
Drake leveled up his housing game.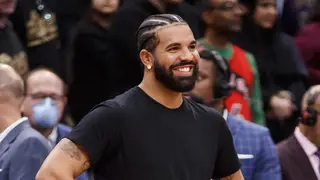 Drake made over a $4 million profit after selling his primary Hidden Hills mansion known as the "YOLO Estate." The "Take Care" singer sold two smaller homes on the property to Matthew Stafford, formerly of the Detroit Lions, for $11 million in April.
The 12,500 sq. ft. estate's original asking price was a cool $14.8 million, but the Toronto native wound up selling the palatial crib for $12 million to an unidentified buyer, according to Complex.
The LA Times reported that Drizzy bought the home for under $8 million ten years ago and renovated the spacious abode into a party lair. The new layout boasted an 80-foot stone waterslide, a volleyball court made of sand, a custom pool, seven bedrooms, nine bathrooms, a 2,000 sq. ft master suite– hidden behind a bookshelf, indoor movie theatre, wine cellar, recording studio and rock fireplaces throughout the decadent domicile.
The three homes were sprawled over three acres of land with a horse stable, tennis court and sun deck.
Hidden Valley, roughly 50 miles north of Los Angeles,  is an exclusive gated community nestled in the valley of the mountains of Santa Monica.
In March, Architectural Digest reported that Drake upgraded to a $50 million home in posh Beverly Crest– an affluent section of Los Angeles. He bought the 20,000 sq. ft estate from musician Robbie Williams. Although the mansion pales in comparison to his native Toronto estate, the Beverly Crest property boasts ten bedrooms, a personal gym, a game room and an astounding 22 bathrooms.
It looks like Champagne Papi is indeed "way up" and staying blessed.