Ice-T Comments On LA Gang Culture After Unfortunate Passing Of PNB Rock: "It's Not A Game"
PNB Rock passed away on Monday afternoon due to being fatally shot.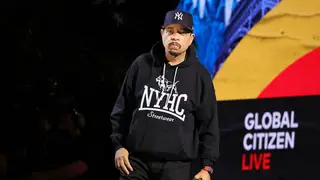 Ice-T had words following the unfortunate passing of PNB Rock, who was shot and killed on Monday afternoon (September 12).
Rock was dining at an Inglewood location of Roscoe's House of Chicken'N Waffles with his girlfriend, Steph. A source connected to TMZ shared the rapper was likely targeted, especially in light that there were no injuries inflicted on anyone else in the vicinity.
The Law & Order actor took to Twitter and shared that LA Gang culture "is not a game" as the social network mourns the loss of the Philadelphia rapper.
"I'm done explaining LA Gang culture," he wrote.
"MFs will not listen. It's not a game. At all."
Many have mourned the loss of the rapper, including Cardi B, who came to the defense of his girlfriend who received backlash for sharing the location.
I highly doubt n***** was looking at PMB's babymom IG," she said on Twitter.
"He was in a bad location, and people stayed outside plotting. It's very irresponsible and inconsiderate to blame her for something so tragic. We should be sending nothing but love to her and his family at this time."