'Black Ink Crew' Star Alex Robinson Slaps Co-Stars Ceaser And Teddy With $1 Million Lawsuit
He is suing them over a brawl that was caught on camera.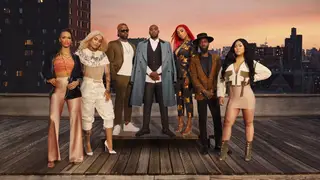 Black Ink Crew star Alex Robinson is suing co-star Ceaser Emanuel and Emanuel's cousin and co-star, Teddy Ruckus, for battery.
According to TMZ, Robinson claims the two jumped him back in October 2018 in a physical altercation that was caught on tape. The incident also left him permanently injured.
In the court documents, Robinson claimed they both repeatedly struck him with closed fists, leaving him with permanent pain and disability. He is asking for more than $1 million in damages.
The feud between Robinson and Emanuel hit a new peak during a pre-wedding party for a coworker in the last season of Black Ink Crew. In a clip from the episode, Emanuel can be seen charging at Robinson while Ruckus comes from behind and joins in. Following the massive brawl, Robinson was left with a large raised bump on his head.
Days after the fight, TV cameras followed Robinson as he was rushed to the hospital. While there, doctors told him he suffered significant tendon and ligament damage to his back.
Take a look at the clip, below:
TMZ further reports that Emanuel admitted to hiring a private investigator to follow Robinson to determine if his injuries were real. After learning that Robinson was not faking, Emanuel expressed regret for putting him out of business as he can no longer sit and tattoo anymore due to his back injury.