This Visual Artist is Brining Awareness to Black Women's Equal Pay
"I'm a Black woman and you cannot separate the art from the artist."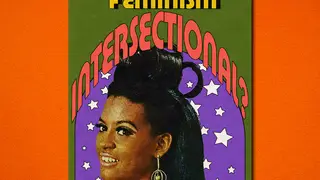 Black women have made huge strides in economic prosperity and achievement. They have been receiving degrees at higher rates than other women for years. They have higher labor force participation than other women and they are critical to a successful and stable economy—for their families, businesses, and communities.
Nonetheless, Black women experience wide pay gaps. The data reveals that Black women get paid only 64 cents to the dollar that their white counterparts make. Black Women's Equal Pay Day is an opportunity to bring awareness to the historically and consistently wide gap in Black women's compensation, as well as, shedding light on the amount of time Black women must extend their work hours into the next year to be paid what men were paid the previous year.
Rinny Perkins, visual artist and writer, is a Black woman who is not new to advocating for Black women's equal pay. Her eye-catching work transports onlookers to a time of groovy tunes, funky patterns, and afros galore. But the most unique quality of Perkins' work is its bold messaging.
BET.com sat down with Perkins to talk about the inspiration behind her advocacy of Black women and the era she portrays in her work.
In her work, Perkins often uses beautiful Black women who look like they starred in a 70's classic movie or Broadway show—picture Pam Grier or Sheryl Lee Ralph.
"For me, the 70s era signaled this wide metamorphosis of Black culture built on the boldness of the 1960s Black Power Movement," said Perkins. "I absorbed the culture from my family and other adults I grew up around that were a part of that generation."
Strong and vivid messaging like "Pay Black Women" and "Why isn't your feminism intersectional?" emphasizes the 70's flare with its big block letters and psychedelic design. It also sheds light on Perkins' identity and her reason for creating, that is, her identity and her experiences as a Black woman.
"Black women are immensely significant in the work I create," she said. "I'm a Black woman and you cannot separate the art from the artist. I'd be foolish not to advocate for marginalized folks as a marginalized person."
Her messages are also witty and can make you chuckle aloud. Often sharing insight into the mind of Black women in the workplace, romantic relationships, and sexual experiences.
"In addition to being an artist I'm a comedian, so most of my storytelling is done through comedy," she shares.
But her most potent points are about Black women and economic justice. "Pay Black Women for their Labor Instead of Using Them for Diversity Clout," reads a mug that she sells on her website. The quote came from a tweet she published in 2019.
"I learned quickly that companies aggressively seek out the influence that comes with appearing diverse," she states. "Their proximity to Blackness and Black women helps their aesthetic, while consequently avoiding true equity within their infrastructure. They want the commodity of honey without lifting a finger to build the beehive."
If people genuinely cared about diversity and inclusion, Black women would not be paraded around like show horses, they would be paid their worth. Black Women's Equal Pay Day highlights the work that still needs to be done for Black Women to have equal footing in society.
Artists like Perkins blaze paths of equity forward by bringing awareness to the forefront of their work. Paying Black women equally will benefit everyone.
"History has shown, achievements in civil rights initiatives that impact Black people, especially Black women, positively affect the overall quality of life for everyone," says Perkins.
Whether you share a post, purchase an item, or root for pay equity in your workplace, supporting Black women, like Perkins, can also bring awareness to Black women's equal pay.