Netflix's 'Queen Cleopatra' Star Responds to Egyptian Broadcaster's Counterfilm Featuring Lighter-Skinned Actress
The film is currently streaming on Netflix.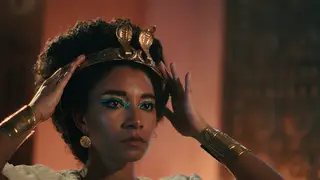 The Black actress at the center of Netflix's new docudrama Queen Cleopatra is speaking out amid controversy over her casting and a government-owned Egyptian broadcaster's plans to release their own Cleopatra project featuring an actress with fair skin, keeping with the traditional belief that the ancient ruler had white skin.
British star Adele James, who is Black, recently broke her silence during her appearance on the Steph's Packed Lunch podcast with host Steph McGovern which aired on Thursday, May 11, admitting, "It would be naive of me to say that I didn't expect anything at all, but I didn't expect the scale of it."
She added, "And I think it's distressing for anybody to receive any level of abuse, let alone the scale and the nature of what I've received, which is fundamentally racist, all of it. James felt the debate around the film was misguided and that "People are talking about the wrong things."
James acknowledged that while the exact details regarding Celopatra's lineage and mother's race are unclear, "the show is about so much more than the question mark over her race." However, what is known about the queen is that she was born in the Egyptian city of Alexandria in 69 BC after succeeding her father, Ptolemy XII, in 51 BC and ruled until her death in 30 BC.
The actress argued, "If you watch, it is a very small part of the conversation, really, this is about the fullness of who this woman was and she was a human being and she shouldn't be reduced to her race any more than I should or anybody should."
News of the latest film narrated and executive produced by actress Jada Pinkett Smith, and its trailer caused an uproar amongst residents of Egypt who claimed Cleopatra was of European descent coming from a Greek-speaking dynasty, denouncing beliefs that she was Black. Shortly after, the Al Wathaeqya channel – which is a subsidiary of Egypt's state-affiliated United Media Services – announced plans to tell the true story of Queen Cleopatra with a high-budget doc.
Queen Cleopatra is currently streaming on Netflix.