Travis Scott Collaborates With Future And Southside On Single "Hold That Heat"
This is the rapper's first single since the Astroworld tragedy that killed 10 concertgoers.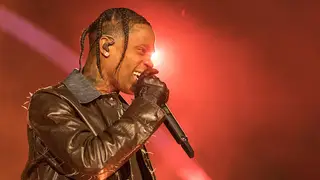 Rapper Travis Scott teamed up with Future and producer Southside to release a new song, "Hold That Heat," on Friday (April 22), marking Scott's first official single since the Astroworld music festival tragedy last November, PEOPLE reports.
"It's what the game's missing right now," Southside told Billboard about the new song that he and Scott put together about eight months ago. "It's a breath of fresh air. If you couldn't breathe and this was the last resort, this is it. It's a fun record though and very full of energy."
This new track dropped after Scott was featured on the song "Pablo" for Kanye West's Donda 2 album, which came out in February. However, the album was not widely released and was available for streaming only on West's Stem Player, according to PEOPLE.
On Nov. 5, 10 concertgoers, including a 9-year-old boy, were killed in a crowd surge at his Houston music festival. There were questions about whether Scott 30, was unaware of the gravity of the situation happening in the crowd when he continued the show.
Houston police and federal officials have been investigating whether Scott, concert promoter Live Nation and others involved in organizing the event had sufficient safety measures in place.
Attorneys for some of the victims accused Scott on March 28 of violating a gag order in an effort to influence potential jurors and rehabilitate his tarnished reputation ahead of a potential trial, the Associated Press reported.
The lawyers are concerned about Scott's Project HEAL, a $5 million initiative that includes funding for an effort to address safety challenges for festivals and large-scale events.
"My team and I created Project HEAL to take much needed action towards supporting real solutions that make all events the safest spaces they can possibly be. I will always honor the victims of the Astroworld tragedy who remain in my heart forever," Scott stated.