Angela Simmons Surprises Yo Gotti With Luxury Birthday Party in The Philippines
The couple happily celebrated with family and friends for the CMG label head's 42nd birthday.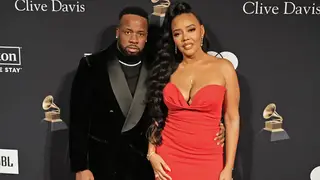 Angela Simmons knows how to make her man feel extra special. She kicked off a birthday celebration for her boyfriend, Yo Gotti, with a surprise party in the Philippines for his 42nd birthday. According to a press release, received by BET.com, not only was it a special night for Simmons and Yo Gotti, but they made it a family affair by bringing their mothers along in addition to Gotti's daughter and several artists from his CMG label.
Glorilla, Money Bagg Yo, Trina, Lil Popper and other celebs made the trip to a private luxury resort located in the Asian nation for the big event, and the party was nothing less than extravagant. Simmons made sure there was a decadent birthday cake, and dancers to further celebrate the evening, and she provided guests with a private jet for their arrival. As far as present giving goes, she may win all the awards, gifting her man a brand new, all-black Tesla Model X SUV.
Yo Gotti and Simmons have quickly become one of our favorite celebrity couples to watch. Before the two crossed paths, Yo Gotti boldly confessed to the public that he had a crush on Simmons, shouting her out in his 2016 hit song "Down In The DMs."
"And I just followed Angela (Simmons) / Boy, I got a crush on Angela Simmons / They like, 'Damn Gotti, you bold' / F**k it, I'm gon' let the world know (goals)," he spits.
It was earlier this year that they made their first public appearance as a couple at a Memphis Grizzlies game.
Simmons shared a photo from the game to her 7.8M Instagram followers with the caption, "Long as I'm next to you," with a heart emoji.
As BET.com previously reported, Simmons celebrated the new relationship earlier this month, sharing in an IG story that she is, "Happier than I've ever been."
Gotti shared a birthday post on Instagram writing, "My Year Starts Over Today, If u know me you know I Celebrate for a Month or So Strait to whatever Budget I set Runs out ( Whats My Budget Dis Year ) But this The Kick off & it didn't cost me a Penny ! Thank you @angelasimmons & My Famly  and Everyone who took time out they Day to Travel to come kick with me"
He added, "P.S. I kept telling Shawty I want a Tesla on some everyday type Sh!t but I heard it takes too long to order, So She Popped Up With One  I Respect ur Gangsta."