Body Of Missing Netflix Engineer Yohanes Kidanes Found In San Francisco Bay
A post mortem examination has determined the cause of death.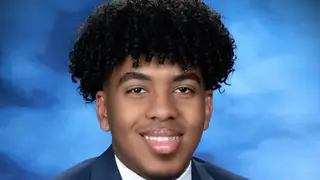 The body of Yohanes S. Kidane, the 22-year-old Netflix engineer who went missing in August, was found in the San Francisco Bay, and it was determined that he died by suicide, the Marin County Sheriff's Office announced Wednesday (Sep. 6).
On Aug. 29, a passing boat discovered Kidane's remains in the bay near the Golden Gate Bridge. The coroner later identified the person as Kidane.
A forensic post mortem examination was conducted on Friday (Sep. 1). "The cause of death was determined to be from blunt impact injuries with drowning as a significant contributing condition. The mode of death was determined to be suicide," the statement read.
Kidane graduated from Cornell University in May and relocated to the Bay Area after Netflix hired him as a software engineer, KTVU reported. He was last seen alive on Aug. 14 when he exited an Uber that transported him from San Jose to San Francisco.
Kidane was reported missing the following day. Some of his personal belongings were found near the Golden Gate Bridge.
"Two young colleagues of his saw him and were able to talk to him. He said he was heading to San Francisco to maybe meet a friend," said Yosief Kidane, Yohane's older brother. "The last footage I've seen of him was leaving his apartment building and getting into a black Toyota Camry."
After an initial investigation, the San Jose police said they found no evidence of a crime related to Kidane's disappearance.

"The investigation has uncovered no evidence to suggest that a crime has occurred. San Jose Detectives have kept Mr. Kidane's family advised of all pertinent developments in the case," the department said on X, formerly known as Twitter. "The case will remain open until Mr. Kidane is located."
If you are in immediate crisis and are having suicidal thoughts, reach out to a friend or loved one, or call the 24/7 National Suicide Prevention Lifeline Network: 1-800-273-TALK (8255).